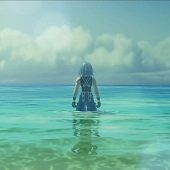 Be Wiser Than the Serpent
Joined

Nov 4, 2012
Messages

3,765
Awards

37
My solution to AkuRoku is to age Roxas up or age Axel down in any stories where they are romantically involved, or strictly write Roxas as having a one-sided crush.
I think that's what most shippers do, though I don't know many who still follow that ship.
My point is that most people who wrote fics for that ship back in the day did
not
envision Axel that age and, no, they didn't write him as some 25 year old who was grooming his prey. To think somebody actually would write that kind of relationship into a fanfic where everything about the fanfic is fantasy is asinine. He isn't grooming him in the games either because there is no romance in the games, unless we think people randomly "groom" their friends.
And for the record—again, I
do not ship
Axel/Roxas. I don't even see myself as a shipper of Aqua/Riku for that matter, although I see the appeal in a passing sense. It's just that kind of language shot out at shippers from the past f***ing pisses me off. Usually if you read a slash fic, there's going to be secondary ships like Axel/Roxas in the background because some writers go overboard into an "Everybody Is Gay" universe. And the ship is never written the way people here like to mischaracterize.
This thread did not pass the vibe check. I do not claim this energy.
Sorry, I don't do this side-ways insinuation game. I'd rather be direct if we're going there.
Last edited: