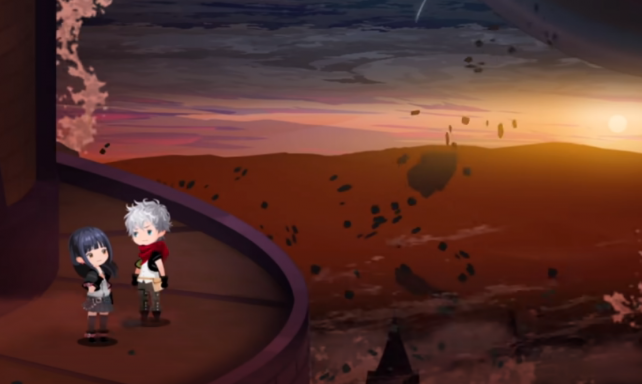 Joined

Jul 7, 2016
Messages

733
Awards

7
Location
You wrote it all out very well, Muke. I thought the same thing about there being two Keyblade Wars, I definitely agree on this point. We got the first war over Lux, which leaves us to speculate the reason for the other. Why wouldn't it be, possibly, just the sinple chaos of all the Dandelions rebelling against their Leaders after realizing the truth, the Dream World they are trapped in, that only loops skipping the tragedy part every time? If all the Dandelions rebel against the Leaders, nothing would go according to the Master's plan, so the Leaders would have to search for ways strong enouhh to undo everything, erase everything again, like it once happened. Only this time, the "reset" will fail.
Now, I mentioned "according to the Master's plan", but the Leaders themselves do believe it's all Lady Ava's plan, as she was the one -visibly- putting the pieces together, but never told to whose plan those pieces belonged to in fact. Nobody from the survivors, as far as I understood, knows about the Master of Masters. And nobody shall ever know, as Ava herself said there are some secrets nobody should know, these secrets all connecting to the Master... and Luxu, who apparently told Ava stuff.
All we know is that it was bad enough for Ava to fight Luxu. That cutscene is important in more ways than one, it seems Luxu wasn't willing to fight Ava. Meaning she started it, so how bad was this drop of info? Ephemera, who is a smart kid may I remind you. Would probably catch on, however how far is to far in this scenario? He simply followed Ava's advice for little more than the Player's PTSD. If the Dandelions rebelled against the Leaders, chances are
NOT
in the Union Leaders favor, even with something as powerful as the X-Blade. So, to equal the playing field. We can assume a few Dandelions are loyal to the Union Leaders still.
Then, I mentioned "ways strong enough" and here comes a place where Kingdom Hearts and the legendary X-Blade could easily fit in the context. Who knows.
Someone is going to have to break that thing then, or perhaps...Just maybe, you need a balanced heart and mind to be able to use the X-Blade? I imagine killing a whole bunch of "followers" would really take a toll on you, it obviously did for the Foretellers. For a few kids, it wouldn't be any different. The blade probably broke from that fact alone.
Another thing - I would disagree that the new Leaders are spitting images of the old Foretellers. Ephemer does resemble Ira somehow, true, but Skuld never manifests the behaviour of a "watcher" in any scene, thus I personally would have no reason to quickly associate her with Invi just because she is somewhat close to Ephemer and is a female character. Blaine does not "clash values with Ephemer", he rather clearly shows suspition towards the laws themselves, and later in the scene with him questioning the laws Ephemer hesitantly agrees to go by the laws, and Blaine rolls with it, and that's it. I wouldn't say Blaine in any way opposed Ephemer in that scene, at least not in a strictly personal manner. Blaine shows the attitude of someone whose mind is intelligent enough to be quick to see through things, thus making his first reaction to something like the laws be a reaction of philosophical doubt and even distrust. These characteristics are those of Gula without question, while Ventus as we get to see him doesn't share anything but a bit of the colour scheme with Gula, not a sufficient reason for the association of course, no matter how much even I liked the Rebirth theory that connected Leopardus to Ventus. The Rebirth theory is something I would rely on less and less now, sadly, as we get more story added.
What I realized from rewatching the cutscenes and this comment. Is that none of the Union Leaders (With the exception of Skuld, and we haven't seen Strelitza's reaction just yet.) want to follow the rules. Ventus only goes with the flow (Like Gula, he must have been in his Union or something) And, like you said Blaine was more skeptical. It seems that they will all break the rules at some point in time. I mean, no one can enforce them other than them...Right? They don't have Luxu or Ava watching over them. And they certainly don't have Dream Eater guardians that will enforce them.
Its not if they break the rules, its a matter of when.
About Strelitzia - I don't like her a single bit. She may be cute and all but, just like you Muke, I am suspicious. What if she was the only Leader that knew the Player and other Dandelions are starting to doubt and cause disorder, after all she watched the Player AND noticed their suspicious behaviour, but never did a single thing to prevent a rebellion from happening, for whatever shyness or kindness was stopping her from doing so, with terrible consequences she never thought of? What if she could have been the one that knew the chaos began to bloom in the Dream World, but kept it all hidden from the other Leaders and never took action? And to think that she thought she was doing the right thing, protecting the Player from the other Leaders' interference, pff... how 'cute'. Could be.
The Player as we've seen, is the only one to doubt everything around them. They are also decently smart (Though, apparently not that aware) However, they have more in common with someone like Strelitzia or Ephemera than they do with the Dandelions or the little "friend" group they are in. However, I see Strelitzia as someone who is going to try her hardest to do things right. However, like the other Union Leaders. Will fail in the end, probably letting her eerily fondness of the Player get the best of her. But, you are also forgetting a few things. I don't think the Union Leaders are necessarily strong. As a result, I don't think Strelitzia would have the power to back things up UNLESS she had the Book of Prophecies with her. Or, had other Union Leaders with her. Because, slightly above average does not beat average if THAT much are around. However, perhaps she did tell them?