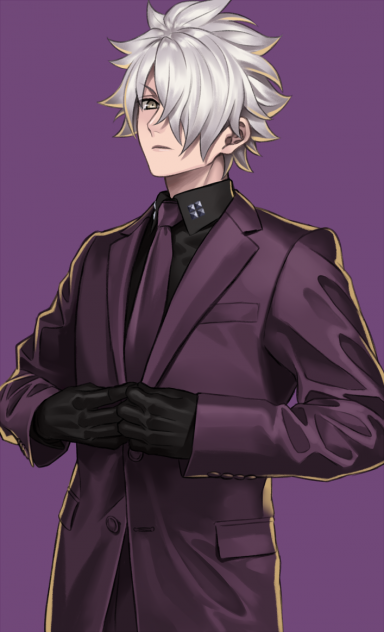 Joined

Oct 3, 2006
Messages

2,200
Location
Year 51XX

Humanity has been brought on the edge of extinction by the awakening of the omniscient creature known as the "Black Destroyer". Many refer to the beast as an awakened elder god that sleeps deep underground laying in dormant for countless eons. The creature purged any traces of life in sight and drew the world on its knees. Which lead to an event called the 300 Days of Darkness and Fire.

A group heroes who wielded unimaginable power banded together and waged war against the monster itself. Together, with combined strength and magic, they defeated the Black Destroyer and saved the world from the dark claws of the beast itself and from total annihilation. This event would later be known as the Dawn of Liberation.

Together, they helped humanity create the "Solis Magnus"; a source of seemingly infinite power, an amalgamation of magic and science altogether. This was also used by the heroes to defeat the Black Destroyer but at the cost of their own lives. With what's left of humanity saved, the world would have to carry on without them. But their brave and mighty deed has deemed them immortality upon the hearts of the many.
​
------------------
500 years later.​
Many years later after the Dawn of Liberation, Humanity has flourished in both progressive and regressive albeit despicable. The war has left a torn landscape throughout the World. An endless ocean of deserts and boiling seas, made it uninhabitable. Leaving mass casualties due to societal meltdowns, harsh terrains and unforgiving natural disasters. And so humanity has used the power of Solis Magnus to build an ultralopolis known as, the Oasis.
The Oasis is a massive floating country powered by Solis Magnus itself. The Solis Magnus is kept safe-guarded by the
Arbitus Dictate
or many refer to as "The Dictate". The Dictate would later be ascended as the most powerful governing body of the World using the Solis itself to keep it in check. The Arbitus Dictate also established it's military superpower and martial-ruling body known as the
White Armada
. The White Armada is the Dictate's sword and shield, its own enforcer of law and order; they were the ones who keep the Oasis safe and sound under its laws. The Armada is led by the esteemed Alteisen clan, a powerful family since before the 300 days of Darkness and Fire, a prestigious bloodline of kings, and brave warriors and said that one of the Heroes that saved the World and defeated the Black Destroyer was that of an Alteisen.
As others would think that the Oasis would be a sanctuary, it is actually worse here than it is outside the floating country. As it would be, the entire Oasis is controlled by corrupt nobles, businessmen and consuls that ruled over it with an iron-fist. The metropolitan area is nothing but riddled and cramped slums; beside them are massive red-light districts that are controlled by crime syndicates and mobs fighting over turfs and territories. Crime is a norm on the streets and the governing consuls are always turning a blind eye towards it.
A great deal of dissent would be caused by the Dictate, partly due to Solis Magnus' use in every facet of society, and the widening of socioeconomic gap between those who could and couldn't afford the use of Solis Magnus. Not long, the Dictate would impose harsher and strict laws and would punish any who would dare speak against it with death without any trial or sense of justice.
In August of 56XX, a parliament branch of the Arbitus Dictate was destroyed by criminal known as
"Wolve"
or
"The Black King"
and a rumored excommunicated bastard heir of the Alteisen Clan; in an attempt to overthrow the Dictate. With this gesture, the Arbitus Dictate immediately placed the highest bounty available on his head. The reward will be given to whomever captures or kills him. It was also noted by the Dictate that this SS-Class criminal possesses a forbidden and powerful form of Solis Magnus known as the "Red Eclipse". This led the White Armada and other hunters to hunt for him.
-------------------
RP Author's Intro and Rules
Good day fellow KHI Role Players! Well to start off, and forgive me for the short-handed intro, as stated in the RP title, this is an Original Character ensemble RP. Which means if YOU the role player, have a recurring character (or in other words have the same RP OC character being used in both Canon and Original RP's here in KHI or in other sites) please feel free to register in. As this will be an ensemble of all your immortal avatars (don't take it too literal mmkay?) and then we'll mash them down with every other Original Characters in a one grand orchestra of story... And smoothies (Want some? lol).
So bring your character in! No matter how ridiculous their power (as long as you stick to the golden rule of KHI RP Forums or any other forums for that matter), appearance, origin or back-story. Any character is welcome no matter what part of the universe they may be in.
Rules are as follows:
1.
No Godmod and Powerplay
- THIS is the main rule here. Yes I mentioned I'll accept any character no matter what they may be. BUT remember this golden rule. Or else, get the hell off my RP.
2. Your character's main plot objective here in the RP is to chase me--I mean my own character of course. You can engage me in battle but please! One at a time! You can also engage other characters tho.
BUT if you wanna join me, my character on his quest just ask me. Just don't expect any warm fuzzies from Wolve. (That guy's a jerk
)
3. Be creative, and by creative I meant CRAZY. Both in your character and your posts. Just don't forget the golden rule numero uno!
4. No flame wars or whatnot, remember we're here to immerse ourselves in our own world. Leave the reality behind you and let the imagination take over.
5. No R-18 scenes please, we have kids here in the forums, go procreate somewhere else. Or let's be realistic, keep it to yourselves. Come on, you're making your RP characters make love is just sick man. And not to mention sad.
6. If you're gonna engage me in battle, please ask me first. I need to know what the hell you're doing when Wolve is around. Or else he's just gonna laugh off.

7. Use subtlety! Majority of the time, the main objective or my character will be disguised or face-covered. Don't go saying screaming "AH THE BLACK KING! I FOUND YOU! HAVE AT YOU! DURR..." Seriously, nobody does that. At least try to converse a bit until I take off my cover.

8. Give your character a life of his/her own. Yes the main objective is to capture the Black King but come on, a man's gotta eat, sleep and have some fun with the babes at red light district. (the third one's optional though
) Go out there meet new characters, do a bit of adventuring around the rotten city of Oasis, just.... don't overdo it.

9. Have fun! Need I say more?
--------------------------
Okay now that's out of the way here's your faction choices together with the character application form. So don't call us, we'll call you (loljk).
The White Armada
The Arbitus Dictate's enforcers. They are the most lethal warriors ever handpicked by the Dictate. They recruit via conscription; they take in potential recruit as early as 10 years old. Even to the point where the kids are forcibly taken out of their parents without parental consent. Because of oppose conscription is to violate the law punishable by death. To be trained for the rest of their adolescent years and honing their skills to be a battle-hardened soldier bent on uplifting and upholding the laws of the Dictate. By force. Their leader is an enigmatic head of the Alteisen clan, who upholds the Armada's ideals by sheer charisma and willpower. They are the judge, jury, and executioner of the Dictate's court and the Oasis' sole guardians.


The White Armada consists of Battalions or Companies. These are the standard go-to guys or patrol grunts or expendable units. And each company/battalion is composed of 10 squads. And each squad comprises of 15 soldiers that is a mix of footmen and neophytes/grunts.
Then we have the Special Divisions, which are the Elite guys that are sired by the Head of the Armada himself; and each of these Special Divisions have their own independent agenda like for example, there is a Special Division for Assassinations, for reconnaissance ops and so on. Now the difference of these Special Divisions is they don't have an organized structure. They only have a Division Master as their superior; which in turn answers to the Fleet Generals themselves.
Then finally we have the Fleet Generals or Armada Masters whom are the inner circle that sits beside the head of the White Armada himself. They are the Devas and the Military governors of each district in Oasis. The most feared of all Oasis even to mercenaries and rebels. For they possess an imparted strength from the White Ascendant himself, the foundation and leader of all the White Armada.
The following would be their Rank Structure:
Fleet General/Armada Master
Divisions/Elites
Division Master
*Insert division name here*
Division Member (ex. Shadow Division Member Kairyu Shinbe)
Battalions and Companies
Battalion Commander/Company Leader
Lieutenant General/Commander
Captain General
Sergeant
Squad Leader
Footman
Grunt/Recruit (new guy)

Mercenaries

The "common folk" of the Oasis. And by common folk, means guns and swords for hire. Since Oasis is an unruly land of the lawless and corrupt, more and more mercs are coming in to make a living. Bounty hunting is the flying ultralopolis' "sport" or you could say being a mercenary is a legit branch of business in Oasis. Because everyday, nobles and people of the higher power--even crime syndicates are hiring more and more of them every time. The bounty of on Wolve's head is every mercenary's dream here in Oasis, but so far none of them, every single one is successful in pursuing the highest bounty which is the Black King himself. They end up giving up on it or worse... Dead, with their rotting bodies clogging the sewer system. To pursue the highest bounty is a death warrant yet a great challenge to any merc who aims high up.

These folk also are always at odds with the White Armada. The two factions would always wound up in a heated argument that always ends in an unnecessary showcase of blood and violence. In fact 50% of the time, they would have a bloody encounter every now and then and have no qualms whether innocent civilians get caught on the middle or even collateral damage and casualties for that matter.

Solis Magistrate

The procurators of the Solis Magnus in the Dictate. A branch of government equivalent to a senate. They are the Dictate's advisors and cabinet. They are formed by a conglomerate of powerful magi that acts upon the will of the Solis Magnus itself; since the source itself is close to a sentient being. And like mercenaries, they are also bent on capturing the Black King. But not for bounty or money or fame, but for Wolve's own Solis Magnus, the Red Eclipse, in other words, for power. They're like mercenaries but with silver tongues and fancy robes.

The Solis Magistrate are composed of 30 Magisters; all equal in their seat of power and all possess Solis Magnus that transcends beyond normal comprehension. The 1st Magister or better known to the Dictate as the Magistrate Chancellor, holds the seat of superiority over the entire Magistrate.



Character Application Sheet

​
*The bolded fields from the application form is for recurring characters only. Character origin field is where did your character first appeared. (RP, Fan art, Fan Fiction etc.) And if it has a recurring theme song go ahead. Character Special Trait is what is that one thing that makes your character distinct? Can he lick his/her elbow, does he like mayonnaise on his/her dessert, he likes to deliver cheesy and over-the-top action film quotes, or does he have a huge mole on his nose.... you get the idea.


*Please provide a decent character picture on the Appearance field. And no, I won't accept description-only appearance anymore, this is for newbie RP'ers to get a clear view of your character. At least a mugshot or face shot will do just fine. And don't forget the short description that comes with it. Or if you hate a Description + Image with a passion, a full body pic shall be enough to compensate.

*NO leader rank please. You are not allowed to be the leader of any factions. You can be a leader of a small mercenary band BUT you can't be the leader of ALL mercenaries. Mercs don't have a system like that come on.


Last edited: