Joined

Aug 26, 2009
Messages

506
Age

23
Location
Dwarf Woodlands is the world based on Snow White & The Seven Dwarfs. It was the first feature length Disney film ever made and also the first Disney film I'd ever saw as a child. The Queen was one of the most terrifying characters to me. Both her design, voice actress, and presentation always scared me as a child. Even to this day as a 21 year old man, I still find her and many other aspects of early Disney films to be very strange and off putting.
Her transformation scene, her interactions with the mirror, and the way she almost breaks the fourth wall and talks directly to the audience about her plans once she's become the old hag were major examples of what scared me. I've actually heard rumors that Walt Disney designed her intentionally to try and have children become scared of elderly Jewish women, because you know, he was apparently an anti-semite. lol, I know that's most likely crap, but I thought I'd throw that out there.
I mean c'mon tell me she's not almost too scary looking for a kids film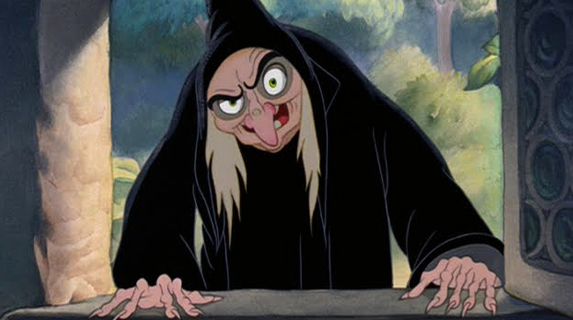 regardless of the Queen/Old Hag, the potential for the world was never delivered on in my opinion. Its also the home of one of the 3 main Princesses of Heart and while Birth By Sleep explored all 3 of their worlds, it never dedicated enough time and universe building to make them stand out. There's never a boss fight with the Queen herself, the Mirror is used twice, but I'm fine with his inclusion. The problem is he's this powerful magic entity that can answer any question and that plot device is barely even contemplated on by our main characters. Terra uses it, but it only slightly foreshadows future events and really not anymore so than any other world in the game.
I honestly feel this world should have been explored in more depth and respect than how it was handled in Birth By Sleep. Both the Queen and The Magic Mirror should be as important or more so important than Maleficent, it would have been the perfect opportunity to make the Disney villains relevant and threatening again. Birth By Sleep tried to provide that with Enchanted Dominion but only slightly played with the idea after Maleficent's character had already been tainted by her Team Rocket portrayal with Pete in KH2, which pretty much used all the Disney worlds and characters in that way.
Its like the developers after KH1 decided lets throw some deviant art anime rejects into the mix and forget the Disney charm. Don't get me wrong, I love the Organization', but their inclusion into the series, especially in KH2 detracts from Disney's importance into the series and even when they are removed from the equation like in BBS the worlds still feel like filler clinging on to their muddled universe building attempts and potential.
The home of the first Princess of Light, The Queen of Evil, and The Magic Mirror of Answers should have been represented in a way that brought the importance of Disney back to Kingdom Hearts, Instead its just another filler world in the ever growing catalog of those in the Kingdom Hearts series.