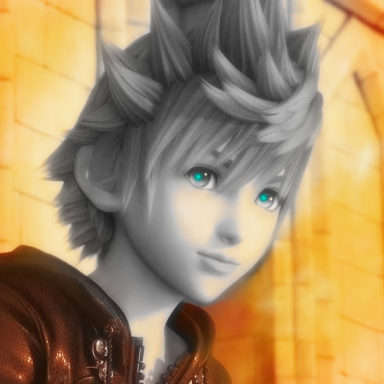 Joined

May 1, 2017
Messages

582
Awards

0
Age

19
Location
I think that the inconsistency on how dangerous the Realm of Darkness is and how easily it is to get there are the issues at hand here. Sometimes it's shown as hard to access (like KH1 and 0.2), but other games people stroll in and out no problem (KH2 and KH3). Then we also see it as a very dangerous place (KH1 and 0.2), but then no danger whatsoever (KH2). If they were consistent in the portrayal of what was happening there, I would probably be less inclined to come down on Mickey. But I still feel like he abandoned her there. Imagine if he had actually provided all the information to Sora and Riku in KH2, maybe they could have found her when they were in the Realm of Darkness (come to think of it, if this was better planned out that would have been an awesome transition from KH2 to KH3 if they were back to back).

Her final word on the matter was that she was staying -- yes... but she probably thought that Mickey who was in possession of the Realm of Darkness keyblade, his own keyblade, and a keyblade master who is Yen Sid's apprentice would be back in a few days, not more than a year.

I think it was all Mickey's fault. He was the link between Aqua and the rest of the cast. He was the only active keyblade wielder (that we know of) that was searching for her from the end of BbS to KH1. Then he was the only one to actually stumble upon her (completely by accident because he moved on to another mission), then promptly forget about her to run around in the Organization's coat and tell Sora nothing but vague information. He also then focused on Jiminy's broken journal instead of saving Aqua or getting Sora/Riku properly trained so they could save her.

Another inconsistency is the whole "not strong enough" thing. Sora is clearly the most powerful one of them all, yet is treated like he's pathetic. Yet when he dove into the Realm of Darkness in KH3 he fixed the problem in like 10 minutes and saved Aqua. I know he regained the Power of Waking, but still, he probably would have been strong enough to go into the Realm of Darkness right after KH2 with Riku, Donald, and Goofy. I mean, if Mickey had the means to get to the Realm of Darkness and the immediate threat (Xemnas) was dealt with and he had concerns about how dangerous it was -- WHY didn't Mickey assemble a team to go in after KH2? Mickey could have asked Sora, Riku, Donald, Goofy, Leon, Yuffie, Cid, Aerith, Tifa, and Cloud to go to the Realm of Darkness with him to save Aqua.

Mickey was the one that made major mistakes in saving her. She felt abandoned by him. I feel for her -- whether it was one day, one year or one decade -- Anti-Aqua's claims about abandonment are true. From what we saw, EVEN with retconning, it's clear that Mickey didn't do enough to actually save her. His best bet would have been to tell Riku while he was Ansem-fied and that would have solved all the issues, but he chose not to (and Aqua wasn't written yet).
I mean, to be fair to Mickey, he was only in the RoD during KH1 & 0.2: two games in which it was depicted to be more dangerous (also shown that way in BBS). That said, the consistency is still a major problem, I agree.
Remember, Mickey was
forbade
from telling them, and I'm not sure how appropriate or safe it would've been to mention it during KH2. You continuously brought up how Mickey was running around in a coat giving Sora vague information, but it's in the first of those scenes that we here him say they can't talk too much because the organization was "listening" (probably through the dusks). So if he was worried enough about that, I could see why he might refrain from bringing it up. Same with Namine, who also knew this information.
Aw, I should've clarified. When I said Aqua's final word on the matter was: "I'm staying. Someone will come from me", I wasn't just paraphrasing the end of 0.2 or something. That was actually the
exact
quote she said
post
Blank Points, and just before SoD arrived. The cutscene for it is in KH3.
I.e. This was her mindset
after
the additional year+ she spent in the RoD, and is the absolute most current thing she says in regards to whether or not her friends would come rescue her (hence why I said it was her final word on the subject). Meaning she went from
that
directly to "you abandoned me for over a decade" with nothing inbetween that would've realistically changed her mind, so it's not even accurate to say she was thinking pessimistically about them anymore.
Which then begs us to ask the question: Why is she, as Anti-Aqua, suddenly feeling the complete opposite of what she literally just told us earlier within the very same game? It's so jarring that it's only natural one would question if what she's even feeling as Anti-Aqua is truly accurate, or just the darkness forcing it upon her. SoD, as far as she knew, didn't have anything to do with the efforts of her rescue party, nor did the abyss (obviously). There was NO reason for her to start doubting them to such an extreme when
nothing
even prompted her to do so. This is just made worse by the fact that she had, in the very last scene we saw her, expressed renewed faith in her friends ability to save her. There's no transition. There's no more reason for her to doubt them after she got anti-fied than there was before she got thrown into the abyss (which again, had nothing to do with them). In short, the progression of her feelings into Anti-Aqua make no sense unless we just assume she's being irrational and not entirely accurate with her words, which based on her later diologue in the game (where she outright denies ever being let down by Riku and Mickey), seems to be the case.
In regards to how long she expected to be in the RoD at the end of 0.2, she clearly didn't have a specific time frame in mind. If nothing else, she knew she'd probably be in there for a while, and I highly doubt she would've phrased her promise the way she did if that was the case. Her exact quotes were: "I'm not afraid. I will face the
long darkness
." "And
one day
, I'll return to Terra and Ven." There's no "soon" or anything there to imply she was expecting to get out quickly. Aqua was
uncertain
, but she didn't care. That was the whole point I would imagine.
I already said that Mickey lacked urgency and proactive thinking, so I'm obviously not going to defend what he chose to do with his time after a certain point (even if there is some level of logic to it, however flimsy it may be). But again, he was
forbade
from telling Sora and Riku, so who's to say he didn't actually approach Yen Sid after KH2 and propose a rescue mission like the one you suggested, only to be declined? This IS Yen Sid we're talking about. The guy who didn't let Sora go to help find Aqua because he didn't have a power he didn't even need to get the job done (ugh... KH3's bad writing just makes this whole thing a much bigger headache
). And if we go by that example, then while it's obviously a poor excuse on their end, we can't simply overlook the fact that he
did
think it was unsafe at the end of day. So, in their mind, they were doing what they thought was best, even though I agree it wasn't enough.
Something else I just realized was that, based on the fact that Yen Sid continued to assert that it wasn't easy to get into the RoD, even
after
DDD (I'm referring to the final cutscene of 0.2 where they're talking to Riku and Kairi), that implies Mickey may not have even discovered the fact that the Kingdom Key D could open up CoD till
very
recently in the timeline. Adding yet another potential factor for why they put her rescue on the back burner for so long.
So to circle things back around once again, of course, Mickey did make mistakes here. No one's denying that. He
and Yen Sid
lacked urgency, and weren't thinking proactively enough about how to solve the problem. After seeing how they handled Aqua's predicament in KH3, they clearly didn't have the best judgement either (case and point, Sora and Riku being "too weak" when they're not, and needing the Power of Waking when they didn't). However, this STILL isn't entirely their fault.
They
weren't the one's who made Aqua go back into the RoD.
They
weren't the one's who made her lose her Keyblade.
They
weren't the reason SoD showed up.
They
weren't the one's responsible for her getting thrown into the abyss. No matter how we spin the situation, the blame and failures don't fall solely on them, unless we ignore Aqua's agency and role in every single one of these events (which, as I said before, is shifting a lot of responsibility, and that damages the integrity of her sacrifice & promise in 0.2).
Ultimately, regardless of all their blunders, they never
GAVE UP
on rescuing Aqua, so they never actually
abandoned
her. They still very much intended on returning, and no amount of set-backs or minimal progress ever seemed to change that. Anti-Aqua's
feelings
can be explained in one way or another at least (even if the accuracy is questionable), but her claim isn't correct from a literal standpoint. Their very presence there proves that. And this isn't me saying you can't feel for the character and sympathize for her what she's saying. Of course you can do that! All I'm saying is just that the claim she made isn't exactly accurate to what really happened.
This is still the conclusion I keep falling back to it would seem, and honestly, I'm not expecting our opinions to change too much from here (though I do think we made a lot of progress). To be honest with you, it's been taxing on me mentally and emotionally to keep writing post this long and trying reason out some kind of workable logic from KH's inconsistent writing, so for now, if it's ok with you, can we just agree to disagree?
Maybe resume sometime in the next couple of weeks through dm's if you wanna keep disscussing the topic with me?
Last edited: