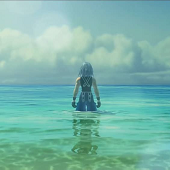 Be Wiser Than the Serpent
Joined

Nov 4, 2012
Messages

3,737
Awards

37
I'm sorry, but that really sounds like a pessimistic way of looking at it. So what if Aqua is 'the most popular female character', she still has faults, training Kairi is no way drags her down whatsoever.
I don't agree that Aqua has faults that need to be improved on... At least, not any more than all the non-Sora characters who act like they're in an anime? Part of what makes Aqua likable to me is that she's reserved and serene. I don't want Aqua to giggle and act flirtatious all the time the way Kairi does. I think the only thing that could be improved is the voice acting, but that's a flaw most of the characters have these days to the point I blame the direction more than anything else.
As an aside since I'm already in the Kairi thread, just wanted to say, having watched MoM's ending story content the other day, that I think Stoner has improved in her performance of Kairi versus KH3.
Last edited: