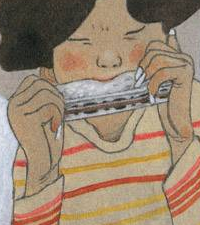 Joined

May 18, 2007
Messages

12,504
Age

28
Location
I just kind of wanted a place to post any random thoughts that felt like putting to paper. They're short and insubstantial, but I wanted to post them, because I thought it would be a good exercise for me. Or something. I don't know. They will be about many different things. Whatever happens to enter my head. As is often the case with nothing, these will have no titles.

::::::::::::::::::::::::::::::::::::::::::::::::::::::::::

"Die fighting for the cause, or your soul will see no end to suffering in the afterlife."

These words swirled in his head, alongside an event on repeat. A girl on a dirty cot, her breaths alternated with bouts of hacking and wheezing. Shivering from a blend of fever and terror, sobbing through pressure threatening to split her head, she clutched her tattered shirt caked in mud, grime, and all other unpleasantness. The glint of hope in her small eye faded, growing weaker in stride with her heartbeat until both could no longer be found.

Atop a patch of dirt on the outskirts of town, the ten-year-old boy with thoughts like an adult sat, rifle squeezed between his knees and leaning against his shoulder. He draped his arms over a gun he struggled to carry, his eyes fixed on the haphazard pile of rocks, which served to mark an otherwise unmarked grave, forgotten by most moments after it was dug.

The sun beating down on his back, the metal of the gun cooling his cheek, tears slipped from his eyes. The boy didn't cry over the agony she experienced. He didn't cry over the suffering her soul must now be subjected to. He didn't cry over over the heartbreak he felt at her passing. He didn't cry over the world he was born into.

He cried, because he didn't have the will to pull the trigger and join her.