Joined

May 17, 2018
Messages

1,085
Awards

0
So after D23 showing (So far) whether the next KH game title is called, I have 10 worlds I think some have a pretty likely shot given the context in KH3, that the next game and KH4:
- Moana
- The Princess and the Frog
- The Incredibles
- Zootopia
- The Haunted Mansion
- Sleepy Hollow
- Onwards
- Sugar Rush
- Frozen 2
- Raya and the Last Dragon
Depends on how far they are with the next KH game in terms of development. For
KH2
they started development after the release of
KH: Final Mix
in December of 2002 and took 2 1/2 years to make, Dream Drop Distance began development in Early 2010 and lasted until late 2011 for development, KH3 started development around late 2012/early 2013 under the luminous engine before development restarted in the Unreal Engine 4 in October 2014 which lasted a solid 4 1/4 years to make.
Now that they are utilizing the Unreal Engine 4 they can still reuse the same character models and maps from KH3 as future reference and can get the development done faster for the next games, and I expect the next one to come out by 2021 or 2022 (KH 20th Anniversary) with KH4 by 2023/2024.
Regarding Disney worlds for the next game and KH4 this is my envisioned listing:
New KH game before KHIV:
-
Wreck-It Ralph
- Meet the Robinsons
- Coco
- Treasure Planet
- Atlantis
- Dumbo
- Pocahontas
- Nutcracker and the Four Realms or Oz the Great and Powerful
- Inside Out
- Mickey and the Beanstalk
- Onward
- Moana
- Robin Hood
Kingdom Hearts IV:
-
Zootopia
-
Raya and the Last Dragon
-
Frozen II
(returning world)
-
Toy Story
(returning world)
-
Princess and the Frog
- The Incredibles
- Aladdin
(returning world)
-
Lilo & Stitch
- Jungle Cruise
- Brave
- Winnie the Pooh
(returning world)
Based on this image I already want this film as a world and the female protagonist as an ally.
Even the Dragon, Sisu could be an interesting ally to SDG given her design, just as long as Sora, Donald and Goofy, particularly the former two don't mistake her for a Heartless when they meet her the first time, cause you knew what happened the last time when they almost mistook Mushu as a Heartless in the Land of Dragons world in KH2.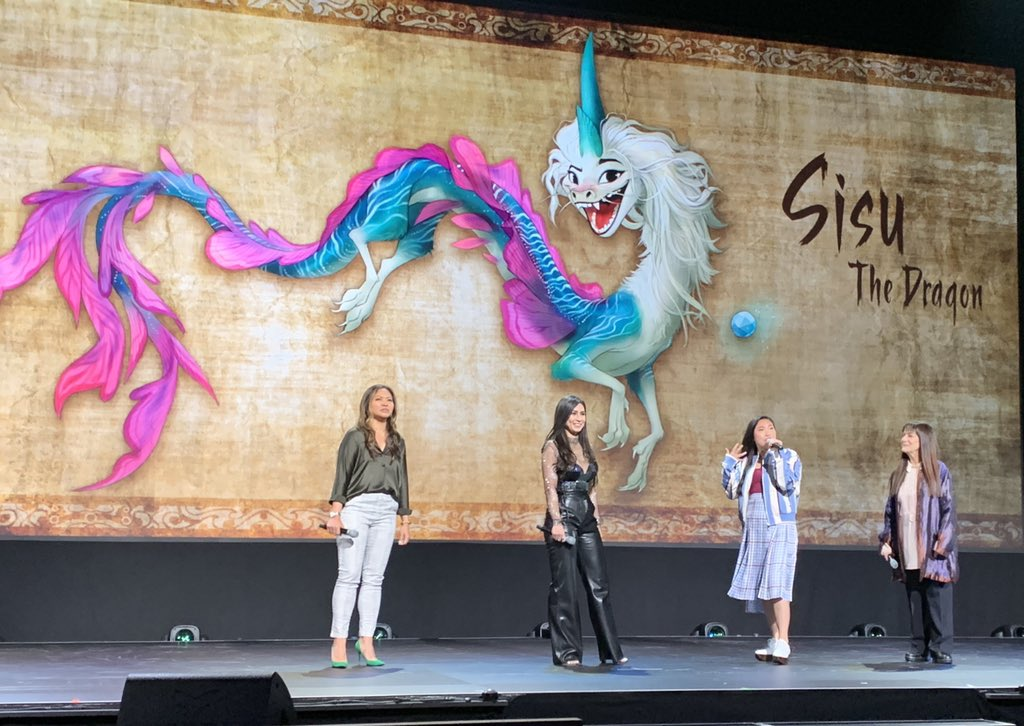 Also couldn't agree with you more I hope we get more female Disney characters joining Sora's party like Raya, Moana, Judy Hopps, Sgt. Calhoun, Elastigirl, Violet, Anna and Elsa instead of just getting ONLY one in a specific world Sora goes to. Because I've been noticing in the numbered KH titles we get a different female Disney character in Sora's party:
1. KH - Ariel
2. KH2 - Mulan
3. KH3 - Rapunzel (until her hair is cut)
Still salty with San Fransokyo for not making Go Go and Honey Lemon party members in KH3.
If DDD.2 is already in development it might be too late but I could easily see it for KH4
Depends on how far they are in development for the next KH game. If it's the KH game coming out before KHIV that the team are working on then yeah,
Raya and the Last Dragon
is unlikely to be included. I'd be surprised if one of the Pixar films,
Onward
or
Soul
be included for the next game cause I've been noticing that some of the more recent films released by Disney have been included as a world in a future KH game. Perfect examples being
Tron: Legacy
(2010) when it was included in
Dream Drop Distance
during development of the game and became a word 2 years after the film came out and when
Big Hero 6
got included in
Kingdom Hearts III
just a year after its movie came out in 2014.
But when compared to Tron: Legacy and Big Hero 6, it may be difficult to include these particular Pixar films cause Square Enix and Nomura have to work and negotiate Pixar on coming up with a new original story based on
Onward
or
Soul
so that takes months or year to develop before approved, much like what happened with the Toy Story world in KH3.
Last edited: