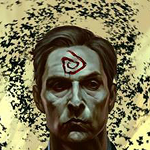 Joined

May 16, 2007
Messages

5,612
Awards

4
Location
1. I'm sure your theory is well thought out, but something I have come to realize about KH, is that it never makes that much sense, nor is it ever that specific. So I am fairly sure that your theory is wrong. No offense.
Uh, yes, yes it does get that specific. Where have you been from CoM onward?
2. Don't place too much significance on wording. You are dealing with tentative quick translations.
.... Where does that even come into play here?
3. You place too much importance on Riku right from the begining. Sora is the main character, and the plot will reflect that. He has the power to connect his heart with anyone. There is nothing in BBS about Riku being meant to weild the xblade(the potential Terra saw i Riku was unrelated to the xblade), and absoloutely no connection between Riku and Ven. Ven at no point reached out to Riku.
Placed too much emphasis on Riku? That's a load.
Because he's destined for the X-Blade?
So was Nomura placing too much emphasis on Vanitas when he gave him the X-Blade, or on Riku, for that matter, when he had the KK? Here's a shocker, not everything important has to directly happen to Sora.
But that's not even an issue here because, even in this theory, it DOES happen to Sora. He inherits the components of the X-blade via his connections.
Riku doesn't have to have any connection to Ven (nor did I ever say he had one) in order to be the next to receive the X-Blade.
Here's some food for thought for ya.
- The X-Blade isn't something that's going away. It's clearly become important to the plot, and if you dismiss this, well, that's just plain stupid.
- You should at least concede that the Kingdom Key Sora uses is in some way connected to the X-Blade, regardless of whether or not this particular theory is true.
- Knowing the two previous points, uh, guess what? Riku was destined for the KK before Sora.
Let that sink in so you can understand what I'm getting at.
4. You are overthinking it. Nomura hasn't been planning the next KH since he made KH1.
what is this, i don't even
1. I am theorizing about dual wielding,
something Nomura said would be explained in BbS
.
2. As for Purebloods vs Emblems, Nomura has openly expressed that there is some kind of difference between the two.
I am not over-thinking it. These are both answerable points.
And while Nomura didn't have the greatest conception of KH2 after finishing KH1, the same cannot be said of him now concerning future installments. He's a man with a plan.