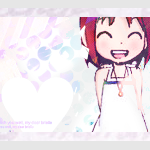 Proud Demyx/Kairi Shipper
Joined

Oct 12, 2007
Messages

4,281
Awards

1
Location
Haha, okay, I'll try to draw something up! But I'm not quite sure what...I'm horrible at romantic images xD You guys have any ideas?
How about them dancing at the ball? (LOL, or doing the Caramelldansen like in that Aqua sig you made for Virgil!) Or just a nice hug?
THAT'S PERFECT!!!! Though, I think I like Ven better with Aurora, myself...

He DOES call her the most beautiful person he's ever seen!!

And Ven/Olette...hmmm...*goes to request joinage there xD*
That scene WAS cute, but since she's asleep the whole time, I didn't latch on to them as much. I generally like to see the pairing from
both
sides! Besides,
Ven not only comforted Snow White, he went and found her a house to live in, then went outside again to make sure their home wasn't invaded by Unversed! They were practically married! Plus, what exactly did Snow White's Prince ever do for her besides sneak up behind her while she was singing and scaring the living daylights out of her???
On another note, YES! Join the Ven/Olette FC!
Possible joinage? I haven't played at all and this will be all spoilery... and I can't really support it since I don't play...

Put me on Tentative.
I shall put you on Tentative, Mina!
Seriously, though, Terra and Ven travelling the worlds with their Disney princesses...that'd be SO amazing xD
It
would
be amazing! It really would.
...
FANFIC TIME!!!! >