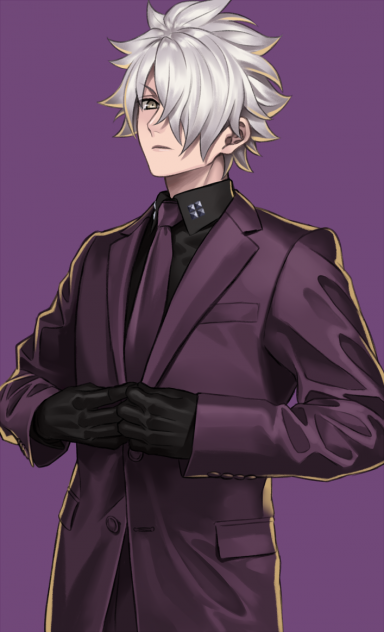 Joined

Oct 3, 2006
Messages

2,200
Awards

5
Location
Hello everyone, it has been a while since I last dropped in here. This story is based upon my OC, Alt which is currently on the roster of Takushi Rena's RP the Traces Series.
This story is set 20 years after the events of the Traces series, with Alt fully embraced his destiny and is now traveling from universe to universe.
The story will comprise of two main protagonists, Alt and the other one who will be introduced shortly. To see more of Alt and the others and the story so far, you can check out the
RP thread
itself.
Anyway, thank you for stopping by and taking your time to read. I'll do my best to keep it lengthy and to-the-point.
------------------------
My name is Wolvenford Ragnaeus Alteisen XXIII; my friends call me Alt for short. The supposed heir of the prestigious and glorious House Alteisen, one of the most influential houses of my home world of Ernas. A humble mechanic, inventor, and engineer by profession and choice. Widely known to fellow warriors, as the fearsome, undisputed, the Black King.
I have travel far and wide, one world to another, searching for what truly is my calling. To me, I am happy being the ever-apprentice of Cid of the Radiant Garden Restoration Committee. Being placed on a high pedestal and riding on a high horse just doesn't cut it for me. I am ever the learning student and not the accomplished master. Such is the beauty of life I have fully embraced.
This is my story, lost in a world--in a universe encroached in a never-ending war of gods and men; mankind against the forces beyond. this is one of the many memorable journeys and by far THE most memorable. A grain of memoir in an epic, a piece of my immortal life worth reliving.
​
-----
Beforehand, Alt, under his wife's assistance via remote communication, surveyed and explored the deep ends of their universe. Wondering if there are other worlds to be discovered, untouched by the Lanes Between. He checked readings from his radar and star map left and right; searching for any energy readings that may lead him into a new world... or maybe just massive floating space debris.
"Alt, are you quite sure about this? Why can't you just take me with you?"
A voice, a female voice was heard aloud from his communicator channel.

"Well, as much as I wanted to, sweetie. I can't."

Alt responded, while still attending to the ship's readings and navigation. "Why not? You could have just modified that ship to be built for two." The female voice protested, indeed Alt could have. He may be an apprentice by title but his knowledge and skills in his field, far outshines Cid in every way and even Cid himself admits it but Alt always insists that he still has much to learn.
The black warrior chuckled, "

Well yes, but we don't have enough resources provided for the schematics. We just have to make do to what we have."

Alt can't deny the truth but as he mentioned, they are running short of materials.

"Tell you what, once this is all done. What do you say we push that 'romantic getaway' into an earlier date? before work comes grabbing me again."

He suggested to his wife, he has been away for quite some time now and this was the only thing he can think of as consolation to her.
"Well... If you say so--"
Before he could hear the rest of his wife's reply, the energy readings on his ship's navigation spiked up, exceeding the desired gauge.

"Uh oh."

Alt hurriedly attended to it. "Alt? What's going on?! the energy fluctuation's through the--roof--wh--" the anomaly became increasingly apparent as it began overloading his equipment and began affecting his line of communication.
"What the hell..."
Just as he feared, his gummi ship was charging straight on to an opening Warp Hole.

"Tch! Dammit, how could I not saw this coming!?"

Picking up the pace, Alt grabbed the ship controls in attempt to turn the ship around before the gravitational pull becomes too much.

"Come on..."

He primed the engines and set the thrusters at full burn propulsion. The energy became increasingly too much for the ship to handle that it began short-circuiting the controls and frying the the entire ship's system. Alt pulled the manual override switch and grabbed the wheel as a fail-safe and last option.
The Warp Hole, then opened in its full span in a matter of seconds. An abnormal instance, he was at the wrong place at the wrong time. The ship couldn't take it much longer. The energy radiated from the anomaly was so strong that it utterly destroyed the thrusters and propulsion system. Alt's gummi ship was built as an exploration ship after all and it can only muster so much.

"Dammit!"
Alt's situation turned grim, as he was pulled in by the immense gravity of the Warp Hole. He had no choice but to brace himself for the worst. Until finally, his ship was swallowed whole by the Warp Hole.
He held on, even with his ancient technology mechanical augmentations, it was quite an ordeal for him. As he entered the gateway, his ship was torn to scrap and asunder by the maelstrom of malignant energy storm inside. For the first time in a very long time, he was holding for his dear life once again.

"Arrgh!"

After what seemed like forever, his ship was hurled out of the energy storm and was now on a crash course towards a colossal blue planet just up ahead.
--------------------



Chapter 1: Dawn of War
Down on the blue planet a battle was going on, between the invading nation of Aldamas Empire against the opposing forces upon the territory of the Kingdom of Regulus.
Upon the open clearing on the forest nearby, a detachment camp of the first battalion of the invading forces can be found. Among these hardened soldiers was a young man in a white coat and gold hair. He dons the sigil of his empire, armed with a golden sword, and full black regalia under his white coat. The man stood exclusive to the other soldiers, who seemed to be preparing for an imminent attack against the opposing forces. He stood tall yet he looked very troubled and disturbed.
"Is there something wrong, Lord Hauer? The troops are ready. They await your orders."
An Aldamas lieutenant in full clad approached the young one and spoke of formality upon him. The young man was none other than the hero of Aldamas himself, Lord Drake Hauer or better known to them as the Golden Dragon.

"Eh? Oh..."

The young knight seemed distracted at the time, his head on the clouds and was barely attentive. "Are you alright sir? You've been pale and sickly as of late, the men are getting concerned." The lieutenant expressed his concern to the commanding officer. If he's to lead the advance force like this, it would affect the morale of his troops greatly. And in the battlefield, morale is a great deal and factor towards victory.
"I suppose an ill leader is an ill omen to anyone."

Drake responded to his lieutenant as the cold breeze passed through, "

My mind is restless these days. It keeps me awake these past nights... I have had little sleep these past weeks."

He added, he may be of higher rank but he treats his men as his equal by opening up to them because he knew these men are much more experienced than he was. And they are the reason for his stature, and he recognizes every effort they make for him. "All soldiers are restless before and during battle, sir." His lieutenant replied.
Drake paused for a while, he can't help not to dismiss the matter that has been bothering him. He can't help but question the upcoming battle.

"Cassius, is this battle really of worth? Is it really necessary?"

The young knight asked for his lieutenant's opinion, not as an officer but as an old friend this time. "It's necessity is none of our concern. We have our orders to do battle, therefore we shall." A rather straight-forward but lenient answered came out of Lieutenant Cassius. He cannot blame his old friend, Cassius and the others were extremely dedicated soldiers for the empire.

"Are orders the only thing that matters to a soldier? Can we wonder why or what's behind the order given to us?"

Drake added. This was the matter that bothers him the most, he has been in so many battles. But this one in particular, he can't help but question it. "I wouldn't know, sir. I'm a soldier myself and never given it much thought." Even though Drake insisted to put aside formality, Cassius still responded as a soldier. A soldier with no point of view it seems. "If we do not fight now, then many more will suffer. Isn't that reason enough?" This was the best answer Cassius can muster, to answer his Lord Hauer's doubt.
"So these men must die so that others may live?"
"...Yes"
The young knight can't help but be sad, because this was the reality that they have to face as soldiers and as human beings.

"I suppose it is human destiny to take lives of others to find what we desire..."

He had no choice but face the reality head on. So without any further delays, Drake walked past Cassius and readied his golden sword.

"Lieutenant, give the order to move out. We march to war!"

The young knight declared, his mind made up and ready for battle. The lieutenant saluted and the battalion fell in line and moved out.
The Aldamas troops mobilized armed for war, their lines swarmed the forested terrain. Ready to face the enemy advance force head on.
Soon the once calm and misty forest was ravaged by war cries, the sound of steel clashing, flesh being rend asunder, and arrows flying. The Aldamas battalion easily overwhelmed the opposing forces through sheer numbers and resilience. Though the Regulus forces have the territorial advantage, because they knew the forest better than anyone do, they were still easily outmatched and out-armed by the Aldamas battalion.
The Aldamas forces drove them back in a matter of moments.
"Ambush!"
One of the soldiers of Aldamas yelled from afar that alerted his comrades. In a matter of seconds, they were met by a shower of arrows from above and from the thick of the mist. This was the Regulus forces' height of their tactical advantage. The troops raised their shield up but they don't know when or where to align their defense because the rain of arrows were coming in at a random intervals. Soon, the opposition began turning the tide slowly as their ambush began clearing the ranks by droves.
"Haaaaagggh!!!"
With his sword ready and fighting spirit ablaze, the young knight, Lord Draker Hauer braved the the hail of death using his lightning-fast steps. He brandished his golden blade and deflected rains of arrows as he close the distance. He may have the visage of an inexperienced warrior but he was hailed as 'The Golden Dragon' for a reason.

Gaining momentum, Drake slid through the thick of the mist and with his blade at the ready.

"Hah!"

With a heave of strength, the young knight swung his blade, performing a powerful triple sword revolutions. The force generated by his attack was powerful enough to generate a strong gust of wind that blew the mist away. Together with the opposing forces hidden within the mist. The impact also took down a few trees, creating a clearing and utterly destroying what's left of the enemy's potential vantage points.
"The enemy's crippled! Hornet formation!!!"

Cassius pointed his sword forward and gave the field order. The hornet formation, one of Aldamas battalion's most effective battle formations. The phalanx units rushed forth to the front lines, and raised their massive tower shields forming an impenetrable wall. Not far behind were the arbalest units. They fell in line behind the phalanx and aligned their bows.
"Fire!"
The Arbalest units began raining bolts upon the crippled enemy units. A very decisive counter-attack. Since the Aldamas battalion are used to fighting in the open field, they used the clearing made by Drake himself as their opening. And it worked so perfectly. Not before long, the phalanx opened and the front line troops charged the opposing forces in retaliation. Their victory was at hand. Lieutenant Cassius and Drake stood side-by-side and overlooked their troops as they were close to winning this campaign.

"Huh?" Before the young knight could sheathe his blade, he suddenly felt something that caught his attention. He looked at the other direction where it came from.

"Hmm..."

Curious, he decided to investigate.
"Cassius, have the men push on the enemy back. Take over from here, I must attend to a matter that needs my attention."

The young knight ordered. "Yes, Sir." As soon as he gave the order to his lieutenant, Drake ran off to the other direction of the forest.
He did not know what or why, but Drake felt that something's out there requires his attention and time is of the essence. So he hasten his pace and sheathed his sword to get there as soon as possible.
---------
Not far off from from Drake's battalion, was another detachment unit of the Aldamas empire. Led by one of Aldamas' finest captains and Lord Drake Hauer's colleagues in the military, Captain Valf. Hauer's unit were the front lines while Valf's unit were the flank, tasked to hunt down stragglers that escaped the enemy front lines. They were also the reinforcements, if needed be but since Hauer's unit has the objective well at hand, they are to survey the area for any stragglers nearby. Make sure that the enemy is pushed back and not spread to prevent any more further resistance.
Along the way, Captain Valf, together with a squad of 5 men were chasing down a little elf girl who just happen to be in the area.
The poor little girl ran as fast as she could but her pursuers where mounted upon fast steeds armed with tall spears and clad in full armor.

"Ah!"

During the chase, the little elf girl tripped upon a rock and fell to the ground. The fall scraped her knee. She cried at the pain, it may be a simple scrape but she's just a little girl barely in her teens. She has a twin-tailed pearl-white hair, with a little white blouse of elven tailoring.
Not too long before tall shadows elongated and approached her with their blades drawn. Her pursuers had caught up with her.

"N-no... Please, I was just gathering food and got lost. D-don't hurt me."
In a stuttering voice, the little elf girl pleaded for her life. And it was true what she claims. She just strolling the forest when she just happen to cross the battlefield. She crawled back against the tree surrounded and nowhere to go. The Aldamas Soldiers looked at each other and then turned to their Captain Valf. The red clad captain stepped forward and looked down at the girl with an intimidating glare.
"I suppose I can show you some pity--"
For a split-second, the statement eased the girl but not long after, she was offered a false hope. "--I can make your death swift and painless, so be thankful." Added the Aldamas captain. With this statement, the little girl couldn't help but broke into tears.

"Please no! I haven't done anything wrong."

It was useless to plead now, with the soldiers now approach her with their blades thirst for blood.
The ruthless captain raised his spear and prepared to stab the girl to grant her a swift death. As he was about to commit a gruesome act, a stray yell from afar distracted Captain Valf's squad.
"Wait!"
The voice came from none other than Drake Hauer himself. The young knight knew something was going on at his back. He charged in and stopped Captain Valf from continuing this shameful and dishonorable act.

"Valf! Why do you point your blade against a defenseless child!? Have you no ethics and sense of honor? This is a travesty!"

The young knight protested against the captain's disgraceful act.
"You, of all people would question me? Our orders are to kill all who would oppose us. I am merely following orders I am told."
The ruthless captain spat, completely deflecting the young knight's protest. This made Drake angry, orders are not used as an excuse to kill innocents. "At any rate, she's an elf. If she lives, she may prove to be a great nuisance to us later. We must destroy evil before it takes root, yes?" Not only that Captain Valf is ruthless but also a bigotive headstrong murderer always ahead of himself.
"What? And what do pray tell this girl has done to deserve this? We fight soldiers and warriors not innocents who can't even defend themselves! And you speak of evil but can you not see that this action will serve the evil you were trying to eliminate?"
Finally, the young knight snapped. He knew there was something wrong with this battle--this war. He knew he was fighting and raising his blade for the wrong cause. And someone has to answer for this.

"This war is full of bollocks. This is not a battle, this is massacre!"

Drake yelled, this battle was completely going against the principles he has been taught with. Had he known better that his men were also killing civilians, he would have turned back on the life of a soldier.
"Too late for regrets, Drake! The history of our empire--no, of all kingdoms is built on war."
Captain Valf then turned to face the young knight and faced him eye to eye. "To deny that is to deny our existence!" The ruthless captain slammed the blunt end of his spear to the ground, reaffirming his disposition and principles before Drake himself. But to the young knight, this was utterly unacceptable. "

No matter how much you hide your malicious intent behind those words, you can't hide the fact that this is all but mindless bloodshed."

The young knight have just had enough, he narrowed his sight upon Captain Valf.
"If this is the justice the empire upholds--the humankind--then I refuse to be a part of it! I renounce my humanity!"
Drake, then finally brandishes his golden blade and pointed it to Captain Valf. If he can't persuade him by words, then he would have to affirm his wrongdoing by steel. And this was just the opportunity Captain Valf was looking for. "To take arms against me, is to take arms against the Aldamas Empire!" The ruthless captain roared and finally took stance, along with 3 of his men. Surrounding Drake in an instant. "This is your final warning, step aside and we could all pretend this never happened." The 3 soldiers drew their blades against Drake Hauer.
"Please... help me."
Trembling in tears, the elf girl called for aid. There was none other than Drake himself she could depend on this time. A call that won't fall on deaf ears.

"Don't worry, m'lady. I will not let them lay a finger on you. This I swear."

The young knight reassured the elf girl's safety. And finally an oath worthy of hope. The little girl smiled as she found a little comfort in his words.
"Apologies, Captain Valfield Odum, but I can't allow this act of disgrace escalate any further."
Without any more second to spare, Valf's men altogether charged at the young knight. Drake clashed blades with the men he used to train, so this could take a while and may prove difficult.
The soldiers were on a aggressive pace, not letting the young knight have his opening because they knew if they did, he would strike them down in one fell swoop. One soldier charged at him while the others try and flank him. Drake's enemy managed to catch him on a deadlock. As he was about to shove the soldier back to recover, another one joins in, reinforcing the lock making it a two-way deadlock.

"Tch!"

Drake grunted as he tried to overpower the two soldiers.

"Yaaah!"
The young knight was on high alert, he was certain that was Valf charging from his blind spot. He reacted quickly and crouched down. The captain's spear nearly impaled him but now the captain is now at the deadlock too. While still crouched down, Drake slid to the side and heaved.

"Raaarrgh!!"

With two hands on his blade, he broke the deadlock and was now locked on a quick close combat clash between him, Valf and 5 of his men. Using his quick reaction time and blade reflexes, Drake block, deflect and retaliate one steel at a time.
The pace of the deadlock increased with every second passed and then finally, an opening! Drake slammed the ground creating a powerful blast, enough to shove his opponents back. Wasting not anymore moment, the young knight launched himself forward and unleashed a cross projectile towards his opponents. The projectile was powerful enough to eliminate 2 of at the same time.
The Aldamas soldiers, then again prepare to deadlock him. But this time, it's not gonna work. Drake was now two steps ahead. With all his momentum now at prime, he deflected and with a swift maneuver and reflex, he countered the blow with a lightning-fast sword flash. The two soldiers were not far off, as they rush in, their movements were as predictable as the sunrise. As they close in, Drake clashed steel with the left then connects a kick to the gut to the other. He then connects a 5 hit combination of kicks and punches while holding his blade on a reverse grip. He quickly shifted and zipped past the two soldiers with a flash of speed. He performed a twisting sword flash. Drake was able to eliminate them with ease. All that is left was Captain Valf himself.
Lord Drake Hauer pointed his golden blade upon his opponent. And Captain Valf readied his spear for their imminent duel. "

Please Captain, just leave this matter be. We do not need anymore further violence. Lower your arms and just be on your way."

In a last ditch effort, the young knight tried reasoning with the captain again. With Drake decimating his entire squad accompanying him, it would be a good opportunity to convince his former colleague to retreat. "I thank you for generous offer, but my duty outweighs everything else. You brought this on yourself, Golden Dragon now I shall finish it! Hah!" Unfortunately, for the captain, it was too late now to turn back once steels have colluded with one another. It was worth a try but it seemed there was no other way to end it.
The captain charged ferociously towards Drake. The two clashed blades again. The young knight was quick on his feet but the captain makes up for it with his superb defensive skills and sheer resiliency. Using his thick pauldrons and gauntlets as means of blocking and counter-attack.
"Take this!"
Valf roared. He then unleashed a barrage of high-speed thrusts of his spear in a rotating motion, like a gatling gun. Drake did his best to evade every strike but it was so quick and was done at a random interval that he was barely keeping up with the pace. "Orya!!!" Putting all his strength on his right arm, he performed a straight, charging thrust. Drake evaded it but barely. The blow left a scratch on his cheek and the force was enough to throw his balance a bit, making him hard to recover. This was the opening Valf was looking for.
"Uwaagh!"
With quick reaction, Valf then pulled his spear back and used his pauldron to ram the young knight over. Sending him sliding through the ground. Drake grunted as he flipped and recovered. Quite impressive he must say. If it weren't for his armor underneath his white coat, he would have a set of broken ribs by that attack alone. Shaken a bit, Drake pulled himself back on his feet.
"You may be the Golden Dragon, once hero of Aldamas but my you're still a long way to go to defeat a veteran like me."
This the young knight can't deny. He may be the fastest fighter in the empire's military but Captain Valf far outmatches him with experience and skill. The elf girl gasped as she watched her protector thrashed to the ground.

"Please get up! Don't give up, mister!"

The little girl yelled, hoping to support her protector by cheering him on.
"Heh, thanks. That's just what I needed."
Motivated, Drake dusted his white coat and regained his stance.

"Come on!"

All fired up, Drake taunted his opponent with his blade raised and edge sharpened anew. "Humph! Getting arrogant are we? Well then I shall oblige!" The ruthless captain again charged with all his might performed his Gatling thrust. This time, it was in a quicker pace than before. Instead of dodging it, the young knight met the quick strikes with his own. Deflecting every attack dealt to him. "You can't match this!" The captain again pulled his spear back and again performed his charging thrust. The attack boomed like a thunderous blast of a cannon. Drake tensed his legs and flipped out of the way. "Hah!" As he was about to counter-attack with the pauldron ram, Drake darted backwards, evading it completely.
"What?!"
Much to the veteran captain's surprise. The young knight then twirled his blade and performed a spinning slam upon the captain's lower back where his armor is the most vulnerable. The shock from the blow sent from his spine, stunned him for a second. Drake landed on his feet on a prowling stance with his golden blade ready. With an unseen speed, he launched himself towards his stunned opponent.
Howling Flash!
Drake again performed one of his trump card. The Howling Blade, a high-velocity sword flash that comprises of three spinning sword swings in revolutions so fast that it looked like he was performing it in one swoop. This was the move he used earlier in the front lines where he cleared the mist and created a clearing for his troops to help them drive back the ambush.
"Uaaagh!!!"
With Drake's powerful attack, the bulk of Valf's armor was utterly obliterated and his spear sliced into three parts. The captain was defeated and lay incapacitated to the ground. The young knight chose not to kill Valf so that he could live another day.
He hurriedly went to the little elf girl's aid and helped her stand up.

"Are you alright, m'lady?"

Drake asked, with a heavy hint of concern for the little girl.

"Yes. I-I just scraped my knee."

The girl showed her wound to the young knight. He pulled out his kerchief from his coat and tore it to make a makeshift bandage.

"There."

He carefully applied the cloth to the girl's wound.

"Come on, we must escape before the others arrive."

Without any more moment to spare, Drake and the little elf girl made a dash for it with the girl ahead of him.
"Hauer!"
The ruthless captain staggered, the damage inflicted upon him was still apparent. The defeated soldier struggled to get up. "You fool... Why do this? You should have killed me. You will only doom yourself!" Captain Valf was bloodied and beaten but not severely, the damage dealt to him by Drake was intended to immobilize him. Drake stopped and turned around to face his defeated opponent. "

Your concern is appreciated."

This was the last words he said to his former colleague. The young knight had nothing more to say because it was made clear that he has made up his mind. Not before long, he ran to where the little elf girl went and left the beaten Captain Valf behind.

"... you're still too naive and soft to be in this battle. Watch your step or else, the darkness will swallow you whole."

Muttered Captain Valf, foretelling that this war was under the machinations of not the Aldamas Empire itself but something more sinister and more foreboding that any other kingdom exist in this world.

--------------------


"Grrr... Come on don't fail me now!"
The sound of short-circuiting consoles and sirens boomed within Alt's gummi ship. He tried his best to stabilize the ship and somehow crash the thing in an acceptable angle to minimize the damage that will be dealt.
-------------------

Soon, Drake caught up with the little elf girl and together they ran deeper in to the forest. Hearing a march of footsteps he quickly hid behind the tree and pulled the girl to his spot. He peeped from the other side to see an Aldamas regiment surveying the area just a few meters ahead.

"It's not safe here, we should go to an another direction, lest they see us."

As Drake was keeping watch, the girl suddenly tugged his sleeve.

"Mister, look!"

The girl pointed at a massive fireball descending from the sky. The young knight's eyes widened as they realized that this massive fireball was coming straight for their direction.

"Move! Move! Don't look back!"

Again the two hurriedly ran as the fireball the size of a house came barreling through the forest. The girl watched as the object from the heavens crashed through the vegetation, through the regiment's lines down to the farthest side of the forest. They would like to investigate but right now, escape is top priority.

After a long pace of running, they were finally far off the regiment's territory. But just when they were nearly out of the woods, a lone figure emerged out of the mists. A face most familiar to Drake.



"Y-You...?!"



"Oh-ho... A warrior must be prepared to spill his own blood, as well as his enemies. Right---brother?"

To be Continued...
Last edited: