trapped in revamp hell
Staff member
Joined

Nov 1, 2009
Messages

17,758
Awards

36
Famitsu has published their extended interview with Tetsuya Nomura, covering the Kingdom Hearts series's 20th anniversary and event, as well as the newly announced Kingdom Hearts IV and Missing-Link.
We've omitted the Q&A that was already published in the web interview.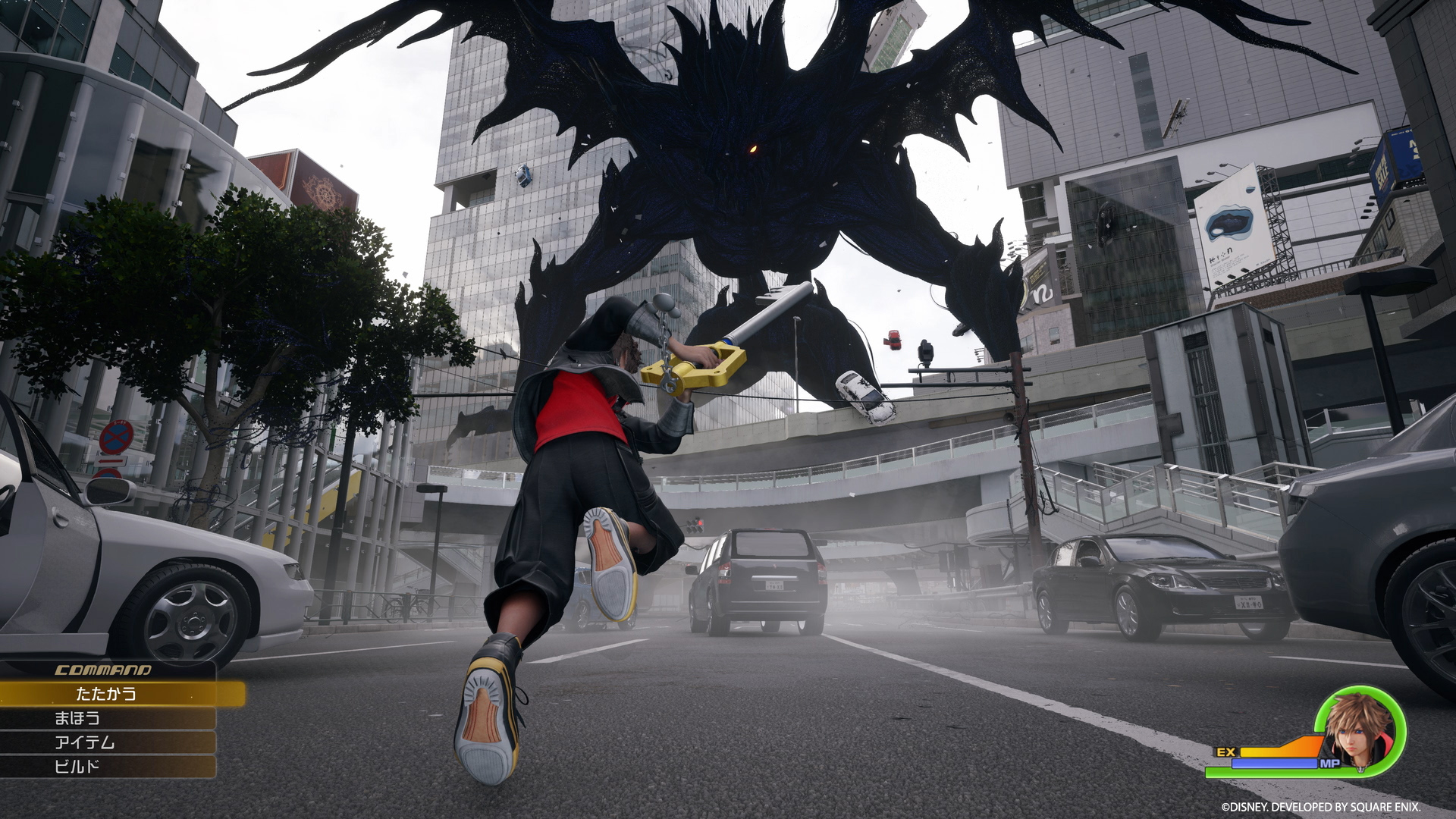 -- I was surprised by the faithful recreation of the area surrounding Shibuya Hikarie, the venue in which the event took place, in the Kingdom Hearts 4 trailer. The video was rendered in Unreal Engine 4, but with development moving to Unreal Engine 5, it seems that the graphics will become even more impressive.

Nomura: Currently, we've already begun working in UE5, so this may be the only time we show you footage from UE4. The next time we show the game should be in UE5, so please look forward to it.

-- Is the room where Sora wakes up also in Shibuya?

Nomura: That is located in Minami-Aoyama. However, the location of the main unit is different from what you see from the balcony, so the Osaka staff will come by later on to do some location scouting to make adjustments.

-- Melody of Memory featured a woman who was familiar with Quadratum. She was only voiced and not shown, but will she appear in KHIV?

Nomura: That is still a secret. As I said at the event, there was a time when I wasn't sure whether I would choose KHIV or VERUM REX as my next project. However, she is a central VERUM REX character.

-- I see.

Nomura: There seems to be a lot of anticipation for VERUM REX overseas (bitter smile). When Yozora was first introduced in KHIII, I got the impression that his reception was less than welcoming, but I guess that was not the case.

-- The logo has been redesigned.

Nomura: With the start of a new story, we took the opportunity to simplify the font. However, we wanted to retain that "KH" feel in spite of the new simplicity, so it took a lot of trial and error to reach a design that struck the right balance.

-- One year has passed since KHIII, so Sora's character design in KHIV is slightly more mature. His hair is silky and realistic, and even the impression he gives off has changed.

Nomura: Even when we were working on KHIII, there were discussions within the team about how realistic we should make the characters. We certainly could have made the hair silky smooth in KHIII if we wanted to. This time, since we are starting anew with the Lost Master Arc, we decided to make some drastic changes. The [characters'] appearances also match the nature of the world [they're in].

-- I hope we will meet Sora again, looking as he did in KHIII. Has this new costume design been finalized?

Nomura: No, not yet. There may still be some finer changes, such as with the details. As for the silhouette, I think it'll be similar to the one in this trailer.

-- The Master of Masters and his six disciples, the "Lost Masters," disappeared after the Keyblade War in Unchained χ. What happened to them?

Nomura: Even though we didn't show exactly what happened, we do know that five of the Foretellers, with the exception being Luxu, vanished after the Keyblade War.

-- So, they disappeared. But in KHIII's epilogue, Luxu "summons" his fellow disciples back and they are reunited. Are the Lost Masters a threat to Sora and his friends?

Nomura: Simply put, the Lost Masters are an opposing force like Organization XIII. However, not all of them have the same intentions. Their motives will be newly depicted in KHIV, so in that sense, I hope you will enjoy this new arc from the very beginning.

-- Who are the two wearing black coats in the trailer? One of them seems to be the Master of Masters...

Nomura: That's still a secret (laughs). By the way, in addition to Oka (Masaru Oka) who has worked with me on scenarios for the KH series up until now, I've asked Ishibashi (Akiko Ishibashi), a newcomer to the KH series, to join us in writing the scenario for KHIV. This marks the start of our 3-person team.

-- Why did you ask Ishibashi [to join you]?

Nomura: The biggest reason is because of how she factors into approaching new users, from the perspective of someone who has no experience with the KH series. She did a great job of integrating the characters' values and principles in NEO: The World Ends With You and other works, and I thought her way of thinking would be well-suited for KH.

-- About the EX gauge in the lower right...?

Nomura: Please wait for more information on that.

-- Changing the subject, what did you request for the new songs used in the trailer?

Nomura: I requested a sense of anticipation building towards the latter half, so you'd feel like you're waiting for a hero to appear. It was very difficult since I had to ask for adjustments to be made to the length of the song to match that of the video at the last minute. For Missing-Link's song, I wanted it to have vocals throughout, so the chorus was included in this trailer.

-- What are the "societies that sprawl and branch like veins" mentioned in the trailer?

Nomura: KH Missing Link takes place about 4 generations after Ephemer's time. His descendents have each formed their own societies: the main family who carries his bloodline is the "Society of Successors", while the branch family who doesn't is the "Society of Non-Successors".

Just like KHIV, we're considering how to approach new users and have asked Fukazawa (Ruiko Fukazawa), another newcomer to the series, to write the scenario.

-- The Keyblade seems to be strengthened by setting "pieces," which are shaped like figurines. That's pretty unique.

Nomura: We wanted them to look rich, so we made them in the form of figurines. The pieces can be obtained not just from the gacha, but also in the field. For example, you might get a message that says "___ pieces are currently available at ___ in Shibuya."

-- I spotted some pieces in the trailer that resembled Terra, among other characters. Terra is a character who hails from a time period long after Missing-Link, so are the pieces just created for the purposes of the game?

Nomura: The purpose of this association [between characters and pieces] is to collect records of all the worlds' pasts, presents, and futures. Each piece provides information on its character from all eras, and you'll be able to draw upon their abilities to fight.

-- I see. The battles look like the action in KHIII.

Nomura: The project started in parallel with KH Union Cross. We knew that if we were going to make the next mobile iteration of KH, we had to make sure it'd play similarly to the mainline games in order to satisfy the audience. Therefore, it was inevitable that we'd aim to create an experience that'd be close to the action you'd find in those titles.

-- Collecting figurine-like pieces sounds interesting, and the multiplayer action battles look quite fun.

Nomura: We're trying to create sharp things that we might not be able to accomplish in the mainline games. Please look forward to the closed beta test scheduled for this fall.

-- You mentioned that you added additional scenarios to KH Dark Road, more than what was originally planned.

Nomura: Initially we were planning to include the [other] classmates, as well as delve further into Xehanort's companions. However, due to a change of plans, I asked Kanemaki (Tomoco Kanemaki), who also worked on KH 358/2 Days and writes the series' light novel adaptations, to put together a scenario with a limited number of stories. The plan received further changes after that, and I had the team's scenario writers make adjustments to focus solely on Xehanort. However, I felt that we were losing too much by making all of these cuts, so I decided to add them back in at the end. As I said at the event, you'll even learn why Master Xehanort became bald (laughs).

-- Oh (laughs). I'm looking forward to it. Lastly, what plans do you have for the remaining duration of KH's 20th anniversary?

Nomura: KH Dark Road is nearing completion, and the two women who are working on the event scenes are giving their all, so please give them your support. It'll just be a little bit longer. KH Missing Link is scheduled for a closed beta test this fall. KHIV's development is being prioritized, and we don't have plans to release additional info for a while.

I'm hoping to put some other stuff together, so please wait for more information from official announcements.
Last edited by a moderator: