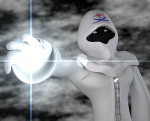 Joined

Apr 21, 2005
Messages

5,800
Awards

2
Age

26
Location
Explain Namine then. If there needed to be two shells, how was she born of Sora's body using Kairi's heart? It could be possible for another Nobody to exist, and another Heartless if the second heart got overtaken by darkness. If it didn't, then there would still be the Nobody, since the same thing happened with Kairi. Either way a Nobody is possible from releasing the heart of someone, without there having to be a corasponding Heartless. Pretty much what I'm saying is if there is more than one heart in a body, and the hearts are released, there can be multiple Nobodies, and only one Heartless. Or there could be many Heartless. Not everyone is like Kairi, obviously. So more than likely there would be more than one Heartless as well.

In the KH fandom, almost anything can be justified....
Namine is not even a nobody really... she's like a brand new species but Ansem the Wise decides to call him a nobody anyway.