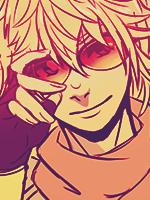 Joined

Mar 31, 2008
Messages

12,520
Awards

6
Age

32
Location
They have been traveling for a while now. It wasn't too long, but Jaakuna was feeling restless. He wasn't feeling this because of the strain of his overall stamina when going long distances, but more like he was excited about the current mission he, Kaito, and the arrogant, but respectful, Arashi were given.

Just like Arashi's younger sister, Ayumi and her group, the trio of Kaito/Arashi/Jaakuna had to investigate what could be information about Son Goku or any of the other tailed beasts. Rumor has it that there was leftover chakra and there could be chakra-physical manifestations of the tailed beast around.

Continuing a very long walk, the trio found themselves within a forest area. Or at least an area that had a decent amount of trees. There a tailed beast that seemed to be a little version of the one-tails. Jaakuna might not know what the one-tails is, but based on his view at this current moment, it has one tail. It shouldn't take a rocket scientist to figure out that much.

On the further examination, Jaakuna noticed that the one-tails was taking it to Arashi full on, and Arashi was giving it back to him. When Arashi felt like he needed help, he called out to such a request and asked for 'team support'. Right away, Arashi was acting like he's the leader. An automatic response from Jaakuna would be to knock Arashi aside the head, but given the current situation, Jaakuna withholds his initial response, and springs into action.

At the moment he did that, Kaito was already giving a dose of his awesome ninjaness to the miniature one tail thing. First there was two gusts of wind to dizzy it up, which Jaakuna was enjoying, but he was really looking for the perfect chance to go in for his turn. This would come up when Kaito, impressive one should mention, used three exploding tags on its back and both legs. This made the perfect opportunity for Jaakuna to strike.

"Lightning Clone Jutsu" Immediately, Jaakuna jumped up creating three clones which proceeded to hop off of surrounding trees to deliver a series of upward kicks that were able to launch the miniature one-tails upward which at this time the original Jaakuna was waiting for him with his hands together(like a kamehameha) which by this time he had already gathered enough chakra.

"Fire Style: Sea of Flames Jutsu" Sending it outward, a stream of red chakra as hot as an active fire came into contact with the one-tails, which sent it back downward to which the lightning clones used the same jutsu only it wasn't as strong. They all kept this up for a few more seconds until the real Jaakuna had launched himself downward completely cutting off the stream of chakra from his hands to deliver a thunderclap jutsu which sent the one-tails plummeting down to the ground creating a shockwave from the impact.