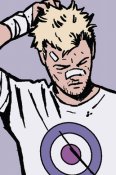 Joined

Dec 8, 2004
Messages

6,797
Awards

6
Location
Re: Avengers(Possible compilation? continuation?) Movie Discussion
Iron Man
The Hulk
Ant-Man
The Wasp
Thor
Captain America(Replaced Hulk on team in issue four of the original series. Soon became the identifying figure)
lol that's not all of the avengers, stupid.
that's a pretty small team.
The more classic line up is similar to the one featured in the Ultimates, which could easily make the trainsition to screen.
Steve Rogers aka Captain America
Tony Stark aka Iron Man
Donald Blake aka Thor
Clint Barton aka Hawkeye
Janet Van Dyne (Janet Pym in the Ultimates) aka Wasp
Hank Pym aka Giant Man aka Ant-Man aka Goliath aka Yellowjacket
Bruce Banner aka Hulk
Wanda (Lensherr) Maximoff aka Scarlett Witch
Pietro (Lensherr) Maximoff aka Quicksilver
The Vision
Give or take on Quicksilver and the Vision, and you have you classic line up. Also depends on what storyline you want to go with first because we can't have Vision until we have Ultron.
And the only other issue is whether Marvel has the rights to Quicksilver and Scarlet Witch, considering they're Magneto's kids. Meaning X-Men ties, so Fox could possibly have them at the moment.