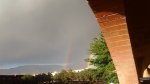 Joined

Nov 2, 2011
Messages

5,451
Age

26
Location
Website
"Hey Moto, did your girlfriend come to school today?"

"Oh, I heard she was cutting class again!"

"So, Moto, where's your girlfriend?!"

Isadore Moto's POV

If you heard these clowns, you are probably wondering who they are talking about and who they are talking too. Well, let's start things off freshly, my name is Isadore Moto, Izzie for short. Yeah, I know it sounds like a silly pet name that a toddler would give to her hamster. I digress, my parents aren't very fond of modern names.

Anyways, I am in ninth grade. I have hassle green eyes and short, messy light brown hair. My mom and my younger sister always get on my case on how I look like a hobo. Anyways, I am a student at Watson Tanner High. The school was named after a Confederate General, but that's much as I know.

The guys that are talking to me are from my class and they have me pinned against the wall as usual. Jason Yuki is the leader of these thugs. He looks like a smart guy from the outside, especially with his thick glasses. However, don't let his appearance fool you; he's an idiot!

The bell rang and school is officially over now. Jason has me pinned against the wall while his goons block the staircase and keep a look-out for the teachers. Yeah, you'd think with a school full of 2,573 students that somebody would keep tabs. That's where you're wrong.

"Hey Moto, where's your girlfriend?!"

Yuki says as he holds tighter onto my collar. I don't look at him in the eye and this ticks him off even more. "What's wrong?! Are you trying to protect that B****!?"

Yuki has a very influential vocabulary, well if you consider cussing influential.

He has his fists about to concave with my face. Fortunately, I am saved by one of the teachers.

She comes down the stairs and Yuki lets go of me. He runs off with his thugs; hoping that I'll take the blame.

The teacher yells at me about how school's over and that if I don't leave, she'll write me up for trespassing. It's no use explaining what just transpired, because like the students; the teachers are idiots too.

~~~~~~~~~~~~~~~~

I am now in the woods, well taking my short-cut as usually. "Ami, why didn't you come today?" I ask myself quietly.

Ami or rather Suri Ami is in the same grade as me. She looks like your stereotypical Shojo girl, but she has a temper that you don't want to mess with.

Last time, I messed with her. She threw me into the wall; it took the school some money to fix the large hole.

~~~~~~~~~~~

I keep trudging through the forest. It's now nighttime and I think I'm lost!

I see someone ahead and I think it's Suri. I call out her name, but she walks into a tree.

Is Suri a ghost?!

I need to get out of here!

However, now I found myself in a bigger fix. I fell in a hole. My leg, I think I sprained it. I can't move, because it'll only make it worst. I call out for help, but nobody's coming. Will I die here?!