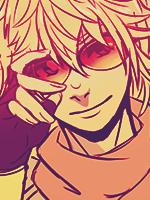 Joined

Mar 31, 2008
Messages

12,509
Age

27
Location
I usually don't come here to vent out feelings or whatever(I use facebook for that), but this kind of situation I'm in is delicate and yeah.

So here it is. My aunt died earlier today, and while some of my family members are crying their eyes out, others are shedding little amounts of tears. Then you have me. I'm not shedding even so much as a little drop. Now, I'm not saying I'm completely devoid of emotion, but I'm not even shedding one fucking tear. Now granted the aunt of my that died wasn't one I would call my favorite aunt. Like, the relationship I had with her wasn't the best but it wasn't bad either.

What I come to you, KH Insider is that if is it bad of me to not feel sad, teary-eyed, or whatever? Am I horrible to not feel uber-sad? I'm not saying that I feel nothing. I feel bad for my cousins and other aunts, but I myself am not feeling uber-sad.

So, I guess I'm posting this just for some self-clarification that I'm not horrible in feeling this way...or should I say not feeling a certain way.