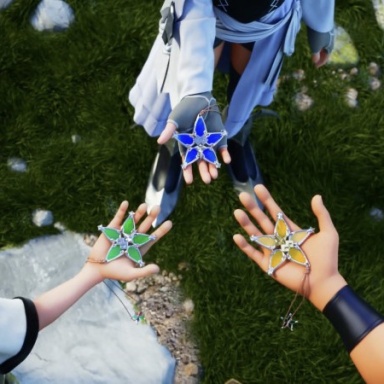 Joined

Jun 25, 2018
Messages

200
Awards

11
Location
I know the "Dark Seeker Saga" is considered one big ol' Xehanort saga, but in actuality the production of it feels more like two sagas. KH1, CoM, and KH2, followed by Days, BBS, (Coded), DDD, and KH3. I mean it's fairly obvious that around the time KH2 was being developed, the rest of the saga was most definitely not planned out as is. KH2 has a pretty conclusive ending with hints at the next story, and teases to it in the Final Mix version. Then Days and BBS open up a whole new story arc, where Xehanort is actually introduced in full for the first time. Coded and DDD act as a way to bridge this new arc to the current cast and KH3 is the culmination of all these events.

Essentially, by the end of KH2, all plot lines introduced at that point had been resolved, and then future titles introduced the plot lines resolved by KH3. Because of this, I imagine that the next saga will probably span 5 games max, but more likely 4 + KHUx. This first "Saga" is only so long because it is really two sagas pretending to be one.

Thankfully with KH3, all the dangling threads have been wrapped up with past games (not quite as well as some of us may have hoped) meaning that hopefully the next saga can focus on future developments/ focus on the new lines introduced by KH3.

I'll be satisfied if the story going forward covers these topics:
What happened to Demyx at the end of KH3? What "price" exactly did Sora pay? What are Luxu's plans moving forward/ what does he know about Ava? Why does Maleficent want the black box? WHAT IS IN THE BLACK BOX? Why were Luxord, Demyx, Larxene, and Marluxia chosen? Who is subject X? (This one should include Lea and Isa in some way and even AtW but probably won't) Who is nameless star and who are they waiting for?

I am assuming that KHUx will have an actual ending at some point that will explain how Ventus and others exist both then and now which is why I did not include that here. I also have always viewed the secret endings as teasers of something the far future, so I don't mind if whatever is happening with Yozora isn't delved into until later. Especially because I do feel a few things have to happen before that scene could make any possible sense.