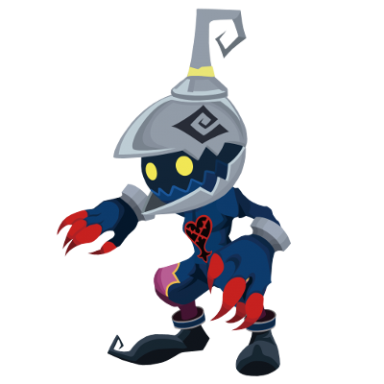 Joined

May 14, 2017
Messages

521
Location
Hello all,

Recently, I've been playing 1.5 and 2.5 as most of you know, and I've been playing in chronological order (bbs, kh1, etc) and right now i'm playing through chain of memories to platinum it, which means I need every enemy card. As of June 24, I have gathered every heartless card on proud mode for sora, which was an endeavor in of itself, with the fluctuating drops and all. I went through the game gathering all cards by world, and would not leave without all of them. During this time, I had thoughts and doubts in my head, like "does the(insert enemy card here) even exist?" "this game seems to have a mind of its own" and other things people think of when at a loss. So after getting my last card, I thought it would be fun to share my struggle on here and see if other people experienced the same kinds of challenges I faced.

Well, here goes.

Starting up Re:COM again wasn't easy, I played it on the ps2 and hated the random drop chances of enemy cards. For both experiences, I did what you're supposed to, "high D in the world you want, warp/warpinator, megaflare" etc. But this time around I was dead set on getting everything for both stories, since trophies are good motivators. So I blaze through the game, hitting a few snag points along the way, but was greatly encouraged by my dumb luck half the time. For example, the Air Soldier and Search ghost cards were collected back-to-back in monstro, while the barrel spider (the most infamous of difficult cards to get) dropped after building a streak of 10 in Olympus Colliseum, not bad at all. However, this all ended when the only card left was the Wizard.
The diddlying Wizard Card,

Now it's down to the very end of the game, all floors unlocked, and according to guides on the internet, the wizard will drop on the 13th floor. I enter the floor, and immediately lay down a Teeming darkness card, and begin to whack away at the evil hordes. However, after some time getting the Neoshadow card, the fights began to wear on me mentally. For starters, I had to deal with long fights, made even longer by the aforementioned pureblood phasing into the floor and popping up with a 8 card, breaking my attack card every time (because they are SO resistant to mega flare, leaves them at 10 hip every time on proud, I swear) and the musical heartless absorbing the flames and wasting more time. This proceeded to go on for 4 days, with many breaks in between. This nightmare would continue for a while until one day, after level grinding in the 12th floor, that I noticed enemy cards fell on strong initiative rooms. Sensing my chance was now, I rushed to the 13th floor and fought through 3 TD's and was awarded the well-deserved card. I shouted with joy that cold summer night, and knew that the struggle was over. Then I almost deleted my save file in the excitement, but I had a backup just in case.:biggrin:

Let me know what your hardest card was.