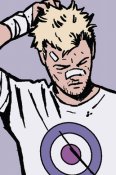 Joined

Dec 8, 2004
Messages

6,797
Awards

6
Location
so going through discussion i've noticed that everyone and their mum is making a thread about the slated avengers movie.
now i may be wrong, i'm pretty sure that half of the people who make those threads didn't even know who the **** the avengers were two months ago.
the only exposure they've had to marvel is the old x-men and spider-man animated series and the movies.
people who don't even know who the **** quicksilver and scarlet witch are.


but hey, they're still HUGE marvel fans.
bigger fans than me.

and i read the comics.
but that just makes me a fag, apparently.
even though they're raving and making threads about the very same characters.

what the ****.


plus, DC is ten times better than marvel.




go suck a cock.