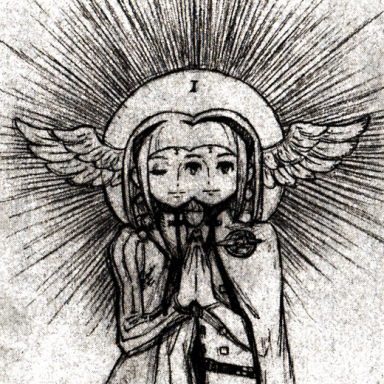 Joined

Sep 22, 2007
Messages

5,662
Awards

8
Age

27
------- I ń Rr Ǣ Ɂ ȣ i P Ȼ hY s -------
​
Salutations, friends!

As you well know, a diligent Story-Keeper never sits idle for long—for as the year turns, new stories are given life in words, and long-forgotten tales are finally restored in full. Still we labor to recover the lost kingdom of Dragonsbane, but that does not exempt us from our other duties. A new set of stories has recently come to the Library's attention, and we feel that your talents are best suited to the task of deciphering them.

I do not use the term "decipher" unduly; these volumes are cryptic, to say the least. The Library discovered them on a shelf that had long been obscured by the large sundial from Gwyladyr-Hav, where presumably they sat undisturbed for ages. Despite this, the language constantly flits between ancient and modern forms, and everything in-between. In some places, it takes a strong regional dialect—while in other places it borrows liberally from languages we have not even seen before.

In short, these works are an anomaly, shifting whenever we feel that we've properly identified them.

The author of the texts identifies himself/herself as Spurius—making a rather obvious pun at our expense. The margins and body are filled with this author's notes and spoiled drafts, indicating that much of the work is pure fabrication. Still, we of all people should know that fiction has value unto itself—and the magical properties of Spurius' work are reason enough to investigate.

Use whatever magicks, rituals, and resources lie at your disposal. I am certain that whatever you discover will be interesting, at the very least!




— J. Ordeith, Keeper of Tomes

​
---------------------------- Ȝ ɱ dzR Ϯ C kB e Ƣ ū hY Ŵ ----------------------------
​
Hello, everybody. I'm glad you decided to stop inside, and I hope that you stay for a while.
For reasons which I hope are obvious, I'll be presenting this information in a way that departs from the usual format of sign-up threads.
This post contains information relevant to the
frame story
of Spurius' works—the backstory, guidelines, rules, and procedures which can be applied to
any story
set within this larger framework. If "The Last Queen" doesn't produce anything worthwhile, these rules can be applied to a different story altogether, and still function as intended.
The second post in this thread will contain information about the
premise and universe of The Last Queen
, one of the many works under Spurius' name. It should explain the setting, principal roles, loose magic system, etc. It will also contain the character roster and complete list of events.
Without further ado, then...
Last edited: