Joined

Nov 21, 2004
Messages

2,897
Age

31
Location
Basically I'm bored as hell and want to battle somebody,anyone can come at 2-1 or 1-1 yes I'm being crazy I could care less so want to fight badly,since I haven't been as active in the challenge section.I can understand If tehre's a somebody out there who's to wussy or afraid to they're ass to kicked to ne,and I won't say anything I,ll just laugh at your face. So If you want to not look terrible then challenge me. Defeat me and prove that you can actually defeat me.That's why I say bring it!

Battle ground:

Abandoned city: After a surprise attack by a terrorist organization known as the Neo-Nazi's the city has been utterly destroyed with nothing but sadness,anger hatred,and the scent of death everywhere.Evil creatures known as the Darklings black terrible creatures and known as experimentations of the Nazi's.Only a few people live here to this day.However, either are victimized by the organization and used for expermiments or try and find they're way to get out of the blood bathed city,or still call It home.
Rules
No goddmoding or power-playing
Comments are allowed
Must be literate
Follow Morpheaus's rules and regulations
No oneliners or spamming (You will die)
No flaming
Try your best,and try not to die too fast!

Judge 1: Trunks

Judge 2:

Judge 3:

(If there is no winner within 2 days the judges or I shall stop the battle and shall rate the performance of both my opponent and myself.Ya dig?)
Template
Name:
age:
gender:
appearance:
weapon(s):
Powers:
Other:
Personality:
Bio:
Name:
Kyo Kazuki
age:
(Appears 16) Is really 4000 years old
gender:
Male
Appearance: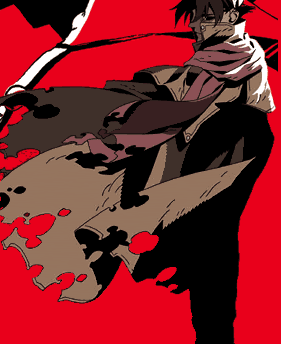 Another pic
Weapon(s):
Dark saber (In pic),throwing daggers,small knife,Spike bombs,Spike bombs,Caltrops, 2 Semi automatic gun pistol,Fist
personality:
Cold,merciless,Kind,Cruel,twisted,deceitful,loves death,sad,unsocial,hates the dead as well as hell.Is quick to pick a fight with anyone who he thinks is strong.He fights with ferocity, and often extreme cruelty, rarely shooting to kill until his target has been totally disabled and humiliated, His playfulness and massive ego make him give enemies a chance to kill him before retaliating, just to demonstrate his enormous powers.He is sadistic,and enjoys pain more then anything.Kyo has strong emotions for his loved ones,and his mother and father,and will rip apart any who insult them.
Powers:
After being stabbed by his mother Kyo is gifted with a series of darkness, in his conquest for vegance,Identity,and so on.One of his powers into a devil,being a heir to hell,Vast speed,When badly injured but Kyo is able to regenerate,he can also transform parts of his body into anything he wishes, he is gifted with the powers of summoning the souls of the dead and having them fight for him, Kyo is also able to shapeshift,and can transform parts of his body,psychokinesis he is able to absorb bullets,One of Kyo's most latent and powerful abilities is being able to forge weapons out of his own bones,and use them against his enemy.With this ability he is able to draw upon the greatest blades of darkness. Such as the bird of Herme's greatest blade which were pinned to to the creation of being Such as
Archangel
and
LA'veyan
born from the innards of Leviathan and which Kyo absorbed. He has managed to create a barrier with his malevolent powers,Clones can be made out of his own blood,can create a Miasma from his body as well which contains poison being a hellspawn.As well as recover,however slowly,he is able to also teleport,and walk through walls,He can shed his skin as well whenever severely hurt,and repair any damage done to his body.He is capable of firing blasts of necroplasmic energy,Telekinesis,Astral projection,Is able to use hypnotism and make his victim remember any terrible flashback,has remarkable strength Telepathy Is able to shape shift to anything he wishes,can take power of the person's blood he licks,he can form weapons from his own blood.
Dark form stage 1 Soul strife:
Description: This form Kyo is now a servant of death able to reach into his body and form weapon(s) out of his own flesh and use them against his enemy.He is able to travel through the shadows,as well as tranform into a swarm of bat's,as well release chains from his body and attack.His last ditch effor attack with his costume,is use his soul with him,and strike with powerful beam of light that go in all direction,he can use this attack to either take control of another body,or attack.
Dark form stage 2 Darkness knight:
His his color,and face,and flesh are turned to black armor and he has the face of a pirahna,and his eyes are red,and he carries a sword at least 3 feet long.
Here pic
Dscription: In this form, Kyo loses all sight of who he is,and enhances his physical as well as mental instabilities,increase his Necroplasmic energy,all of these characteristic will make his fighting skills increase exponentially. In doing so his body will damage his body.
XD His best form yet.
Dark form Lost soul of sadness
Kyo manifest himself Into a devil or any other words a shadow of the fall angel Lucifer.He is able to increase his Necroplasmic,and his speed is Multiplied times 1000 better,far more efficent then his last transformation.His regeneration,Is quicker,and he can shapeshift parts of his body.However, the longer he's in this form his bones begin to quake.
Here
Hell spawn form Wings of Darkness Luther
His face Is covered by a helmet In cased in Pure black and resembles that of a hawk,and he has extremely long wings.In this form Kyo has transcended his humanity,although has a limit amount of time to be able to stay in this form for his soul will be torn apart and trapped in Hell til the end of Eternity,unless his mind remains calm.Kyo is able to compress and disenegrate the reality In any area of atmosphere.Alongside that he is able to damage the Astral body of a person,Instead of they're physical body (Soul) ripping them limb by limb.He Is able to also manifest himself anything that is formed from darkness or corpses or anything else, and Is also allowed to use Pychic powers.He can open a void in space as well.In this form his skills are raised to they're max.
Here
Bio:
He was born into a loving family with two young brothers, one enigmatic,brother who is known to be mysterious,as well as one old sister who is in college.
He born with all the happieness in the world,nothing could unrival it,no matter what.However, not all was well with Kyo as one day it was mother's day and he was waiting for his ,mother to come home,so he could greet her with his birthday gift.
Expecting his mother to come home late he waited all night for her.Sadly,however, he discovered his mother had died in car crash as her car had fallen into the river,however no body was found.
Things in Kyo's family changed,dinner was late,and Kyo was getting into fights more often,and thrown into jail.Kyo's father also became more abusive and would beat him.
one night while in bed Kyo spotted his father,who tried to stab at him with a kitchen knife,Kyo barely dodged and punched the knife out of his hands.His father charged at him again,but this time Kyo countered and stabbed him right through the heart.Shockingly on that night he killed his own parents left his father.
After that things went from bad to worse,as Kyo was now the only one to take care of his family,and people suspected them of not having parents and were planning to take them to the orphanage.
One night,Kyo went to the church to pray,as he slept at the church he spotted a figure who stood above him,his mother who stabbed him with a golden knife.
A century has gone by now.
Kyo was resurrected from a grave his body was now deformed and resembled a corpse and he was re-age to the age of 16,and was gifted with powers of the undedad and strange magic.
Wandering the streets of the living,he discovered his only relatives had died,and found an old man who taught him how to control the powers of the dead,and turn into a figure of hell,or otherwise known as Soul strife
Now, making a deal with the devil he could serve heaven or hell.
Now he is on the verge of death and destruction.
Last edited: