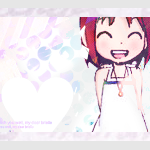 Proud Demyx/Kairi Shipper
Joined

Oct 12, 2007
Messages

4,281
Awards

1
Location
The final Halloween fanfic! Woot! And it's dedicated to Madammina, the #1 Rilsi shipper who helped me with some parts, like the Heartless battle!
Pairings:
Riku/Kelsi friendship, SoKai and Troy/Gabriella are mentioned
Setting:
Post-KH2
Summary:
Kelsi is at her school's Halloween dance, the only one in her group without a boyfriend/date. Then she sees another loner who has no intention of telling her who he really is or why he's there, sparking a game of 20 Questions to figure it out.
Disclaimer: I don't own Kingdom Hearts or High School Musical. Or the Phantom of the Opera. Or Zorro. Or those lines from Twilight. I'm sorry, it started out unintentionally, and then I remembered that part from the movie and just HAD to make a joke about it...
"20 Questions"​
Everyone in the East High student body had to agree: this year's committee for the Halloween dance had really outdone itself. The gymnasium was barely recognizable because of all the decorations; the theme was "Haunted Mansion" and the crew, led by senior Taylor McKessie, went out of their way to make it look like a real haunted mansion. It helped that Taylor had recently befriended some of the people in the Drama Club because they knew a thing or two about set design. The bleachers had been pulled out and covered to look like a "grand staircase," the dance floor was lit by lamps and fake chandeliers, the floor was covered with cobwebs, and the Science Club had even created a talking head bust to greet everyone as they went through the doors!
It was at this masquerade ball where Kelsi Nielsen was sitting at one of the little tables, waiting for her friend Ryan to come back with food. She played around with the tablecloth and watched the couples dancing in a wide variety of costumes. People had been coming up and complimenting her on her own outfit, yet none of them, save for Ryan, could figure out who she was supposed to be. They just said, "Nice dress," and kept going. Well, she should've expected that. It wasn't like the kids from East High were all that hyped up on classic Broadway shows unless it came from Disney.
She sighed, wishing that she wasn't so bored. What she really wanted to do was sit at her piano and compose a new song, something spooky for Halloween! It wasn't that Kelsi was anti-social; it was just that most of her friends had come with dates, and since she was single, that really only left her with Ryan for company. So when he was caught up talking to other people, she got restless. Maybe the next time the DJ played a fast song, she would be able to get up and just dance without needing a partner.
As Kelsi aimlessly scanned the room, one figure in particular caught her eye: a young man leaning up against the wall on the other side of the dance floor. He too was watching the dancers with a disinterested gaze, but what truly caught her eye was his costume. He wore a black opera suit with a fake rose in the front pocket, and his face was partially covered by a white mask. Excited by the prospect of meeting another theater lover, Kelsi crossed the dance floor to speak to the mysterious boy. As she got closer, she noticed that he had long, silver hair. That was strange, but it added to his intrigue!
"The Phantom of the Opera?" she asked him when she'd caught his attention.
The boy straightened up and looked her over. "Let me guess?" he said slowly, "Christine?"
"My name's Kelsi, actually," she joked, "What's yours?"
He hesitated for a moment, but finally he said, "Riku."
"Riku? Are you new here?"
Again, he hesitated, and he seemed to have trouble meeting her eyes. "Something like that, yeah."
"Wow, you're more mysterious than the Phantom!" she exclaimed.
Riku smirked. "It almost sounds like you think that's a good thing!"
Kelsi couldn't figure out if his behavior was alluring or creepy…he wasn't giving off any dangerous vibes, but despite her love of "Phantom of the Opera", she was a sensible girl who didn't plan on swooning over the first masked man that offered her a rose. "It depends on who's underneath the mask," she told him out loud. He automatically took a step back and raised his hand, as though preparing to block her in case she tried to reveal his identity. "I guess I'll never know then," she said with a sigh, and she started to turn away.
"Wait," said Riku. Kelsi looked back hopefully, and saw that he was grinning again. "How 'bout I give you three guesses about who I am and where I come from? What time does this ball end?"
"10:00."
"Then I'll give you 'til 10:00. If you can't guess, I get to keep the mask on. If you do, I'll take it off. Deal?"
She thought it over. "What about playing '20 Questions' instead?"
Riku laughed. "You're tough, aren't you? Okay, '20 Questions' it is. Fire away."
"How old are you?"
"Seventeen."
"How long have you been seventeen?"
He scratched his head. "My birthday was last month." Well, okay. So he wasn't some creepy, youthful-looking adult who had snuck into a high school dance. That made him slightly more appealing in Kelsi's eyes. But it didn't tell her much about who he was underneath the costume, so she tried to dig a little deeper.
"How many times have you watched The Phantom of the Opera?"
"Actually, I've never seen it before. My friend Kairi told me to wear this tonight to the dance. Apparently I look 'classy' in a tuxedo or something like that."
"Then how did you know that I was Christine?" asked Kelsi in surprise, "Nobody but one of my close friends was able to figure it out!"
"Because Kairi's seen the play, and when we were all looking at costumes, she got all excited and asked me to try it on."
"Is Kairi your girlfriend?" asked Kelsi curiously. If so, why wasn't he dancing with her?
"Nope. That honor belongs to my best friend, Sora," replied Riku, and he pointed over at one of the couples dancing on the floor. The boy had brown, spiky hair and wore a vampire costume. His partner was dressed as a mermaid, with seashells arranged in her red hair. Both looked like they were having the time of their lives!
"Is it hard being with them all the time, when they're so fixed on each other?" asked Kelsi curiously. She was beginning to think that this boy might know how she felt, being the only one in the group without a love interest.
"No, it's not that bad. I'm still their best friend, so they try to keep the romance to a minimum whenever I'm around. I feel kind of bad about that, but I'm glad that they're trying to respect my feelings at least." Wow, he'd told her a lot more information than he'd intended too. Perhaps that was because he hardly talked to anyone about his inner thoughts and feelings, and now that she was making him open up, it was like breaking the floodgates after a hurricane! "We've all been best friends since I was five and they were four, and Sora and I've pretty much been friends since birth. I don't want to throw that away just because their friendship got stronger than usual, if you know what I mean."
Kelsi nodded. That made sense, and she wasn't about to complain to her own friends either; after all, she was the one who'd gotten Troy and Gabriella together in the first place, and they were her two closest friends. And they were such a cute couple, giving her inspiration to compose some of her best songs for every school play they auditioned for. Which lead her to her next question: "What's one thing you really love to do?"
Riku had to think about that one. "I like sparring."
"Sparring? Like a sword fight?" she giggled, "Are you the Phantom now, or Zorro?"
"Who's Zorro?!"
"Never mind. How many questions do I have left?"
Riku smirked. "Now you have eleven."
"Hey, that last question doesn't count!"
"Sure it does! It's a question!"
"You're cheating!" she complained. Riku started to laugh, but suddenly his whole body stiffened. "What's wrong?" she asked him anxiously.
"RIKU!" They both turned around to see Sora and Kairi running towards them, holding onto…giant keys?! "Heartless!"
A few seconds later, the crowd began to scream and stampede for the exits! All around them, scary looking creatures with glowing yellow eyes and waggling antennae were popping out of the ground and leaping at the fleeing students. One fixed its gaze on Kelsi, but before it could attack her, Riku stepped in front of her, pulled out the strangest-looking sword she had ever seen, and struck it down. "What's happening?!" she cried.
"Riku! We gotta go now!" shouted Sora. Riku nodded, grabbed Kelsi's hand, and guided her skillfully towards the nearest exit. Riku kept his sword handy and slashed out at any of the creatures that came near them.
"What are these things?" asked Kelsi fearfully, "This better not be the seniors' prank…"
"It's not a prank; these are Heartless," said Riku grimly, "They try to steal people's hearts, so stay close to me and don't let one of them near you!"
Kelsi shuddered. They stole your heart?! How twisted was that? She looked around desperately for her own weapon to protect herself, when she looked up at the ceiling and saw the solution to the problem! "Riku!" she called, "Can you get these Heartless into the center of the dance floor?"
"What for?" he demanded.
"I have an idea!" she replied. Since he didn't have one himself, he nodded and yelled out instructions to Sora and Kairi. Kelsi ran over to a corner of the gym, dodging the creatures with their swiping tentacles, and started untying a series of ropes that were holding up all of the ceiling decorations: the chandeliers, the ghost dummies, and a huge tombstone that was hanging over the center of the gym. "Guys, get out of there now!" she yelled. The trio took off running, but before the Heartless could follow them, the entire ceiling display came crashing down, crushing them to death.
There was a long, long silence.
"Um, is that all of them?" Kelsi called out as the dust began to clear.
"It's a pretty big amount," said Riku shakily, "Nice work!"
Kelsi grinned. "Thanks! Is everyone okay?"
"Yeah. You?"
"I'm a little freaked out, but I think I'll live."
"Good to hear." Riku approached her and stared at her warily. "So...I guess you didn't need the 20 questions game after all..."
"No, I think I've got a pretty good idea of why you're so secretive. So what, are you some silent deputy that comes riding into town when there's Heartless afoot?"
Riku started laughing. "Something like that, yeah. You know, you wouldn't be too bad at it either, with a little training...that stunt you pulled was pretty genius."
Kelsi shivered. "Thanks, but I think I'd prefer to graduate first. Some things are probably better kept under the mask!"
- The End -​
A/N: WOW, that ending is terrible, but it's the best I could think of. Happy Halloween, madammina!