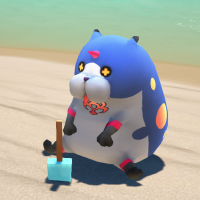 trapped in revamp hell
Staff member
5 main story quests were added (No.901~905), bringing about the end of Hero's Duty.
Bad Guy Breaker can now be upgraded to +30.
Watch the scenes with English subs, translations by goldpanner!
(Ralph, trapped in the escape pod with a Cy-Bug, zooms past Calhoun and Felix. They watch in shock as it exits Hero's Duty.)
(Cahoun is confronted by the Cy-Bug/Darkling fusion.)

Calhoun: What the blazes is going on with this Cy-Bug!?

(It puts the pressure on her, but Player and Ephemer arrive just in time to push it back.)

Calhoun: You again…

(She glances at Ephemer.)

Calhoun: Ooh, I like that look in your eyes.

Perfect. You're helping!

Ephemer: Nice! This is just like being on a mission. Haven't gone on one of those in a while.

Calhoun: You got that right, kid.

Our mission: destroy all Cy-Bugs.
(Together, they manage to defeat it.)

Calhoun: I think we did it…

Well, in any case, the beacon is working, so we don't have to worry about the rest of the Cy-Bugs here.

Our real problem is the one that got away, or should I say, two…

(Player and Ephemer notice Felix, hiding behind some rubble. He emerges.)

Felix: Yeah. Ralph went along with it.
Last edited by a moderator: