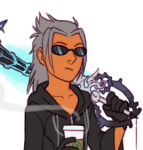 Joined

Jul 5, 2015
Messages

4,520
Awards

20
Essentially, yes. It's just that you must "first" cast off the body to gain the ability. Technically Xehanort gained the ability in BBS when he casted off his body and possessed Terra. Ansem meeting YMX led to him being able to pass on the ability to him. It's doubtful that Xemnas and Ansem in KH3D are time travelling though.
Okay, I've needed this cleared up for a while now: what exactly are Ansem and Xemnas doing there right now, then? They both got destroyed, so they SHOULD re-form as one complete person. And they do, by the end of DDD, and yet all three of them are co-existing in one space at the same time... Ugh, is that just because it's the Realm of Sleep or what? WAIT, that couldn't have been the Realm of Sleep, because that scene in the throne room took place in the real world and...
I think what I mean to say is, if Xemnas and Ansem aren't in the present day because of time travel, how are they THERE, in the real world, physically present enough to pin down Mickey and Riku, despite the fact that they had both been destroyed and THEIR COMPLETED SELF IS SITTING IN THE SAME ROOM?