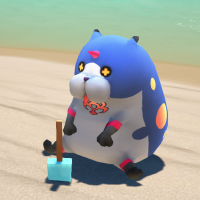 trapped in revamp hell
Staff member
Those of you who have purchased THE WORLD ENDS WITH YOU Solo Remix may have woken up to a strange surprise this morning: a new update! For the game that is. 
TWEWY Solo Remix Version 1.1.0 boasts various additions, which are listed below:
・The following perks are now available after seeing the super-secret ending:
 ・CDs obtainable only by trading with friends can now be purchased
 ・Pig Noise Pins obtainable only as drops can now be purchased
・Mingle PP can now be earned from non-mingling practice matches
・Psychs now trigger more easily when scratching
・Various minor bugs were addressed
However, the biggest addition is most definitely the arrival of a brand new shop, owned by none other than Coco (formerly known as Atarashi Koko)! First seen in THE WORLD ENDS WITH YOU LIVE Remix, the mobile social game made in partnership with GREE, she acts as a guide for the player as they spelunk through Shibuya, teaming up with 19 other Players in a mad race against time with another team and defeating Ringleader Noise. 
The owner of Coco's Secret Reaper Shop, she offers 3 items to aid Players in the Reapers' Game and a total of 9 BGM tracks available to play in the menu! However, they do come at a cost. These items actually require real world money to obtain! Well, with the world (or at least Shibuya) in your hands, sacrifices must be made for the greater good!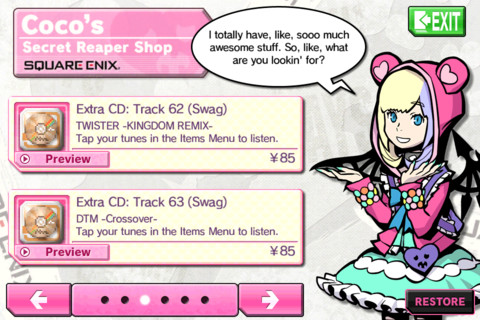 What could her arrival mean? Could it be a hint that the social mobile game LIVE Remix is coming our way? Discuss it with us in our forums!
Source: iTunes