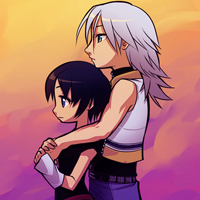 Joined

Jan 31, 2008
Messages

16,306
Awards

5
Age

35
Location
Website
Yeah, this is... random.
I can only imagine how painfully OOC this is. But meh.
Um, rating PG-15 for stuff.
Hoozah.

-----------------------------------------------------------------------

"...is that really him?" Ven had to ask, not quite believing his eyes. Not too far away from them, slumped down over the bar was their third companion and friend, seemingly busy telling the barkeep the sad, tragic story of his life while ordering another drink. One could smell the alcohol on his breath from across the room.

Aqua had to pinch her nose; She felt a migraine coming.

"...for his sake... it had better be not." She concluded in a soft hiss and made her way across the room, navigating between the crowded tables and slapping away curious hands.

Ven had to refuse several older girls before running to catch up to Aqua as though his life depended on it.
Well... seeing the look in her eyes... he reckoned a life /did/ depend on him sticking close, just not quite his own.

"End den..." Terra slurred, shifting unsteadily from side to side in his seat. "End den shi... shi told m-" Hik. "Shi told mi to..." He had to blink several times as he realized that not only did he forget what he wanted to say, but the bartender was staring at something next to him. Eyes squinted, he managed somehow not to fall off his seat as he turned to look... up, was it? At whomever it was that stole his audience.

Heeeey, why helloooo there pretty laaaa-

"...you had better put that hand back where it came from."

...oh. He thought she looked familiar, Terra realized with a growl as he pulled his hand back from the nice lady's bossom.

"...Aqua. Never knew you had a twin sister...s. Twin sisters. Three... no four? Three... oh, the fourth's hiding. How cute." He was about to happily return to his freshly served bottle of vodka, only to blink as he realized he was grasping air. "Wha..."

The cheers and loud exclamations which offended his ears greatly made him look aside again, only to find his precious liquor being consumed mercilessly by none other than Aqua herself.

Ven took a step back; this wasn't going to end well.

"Oy... the's mai-"

No sooner did he manage to slur that did Aqua throw the now empty bottle into the air, only to catch it by the neck and in the same swift movement shatter the glass on Terra's head.

"...now det... wasn't veriiiiiiiii..."

A small eternity later he dropped to the floor, out cold.

With a sigh the female Keyblade Wielder dropped the broken bottle on the bar before leaning down to hoist her fallen comrade's arm over her shoulders as she made her way to the exit.

Leaving just enough to pay for Terra's tab, Ven hastilly begged forgiveness of the bartender before turning heels and dashing out after his two friends.

"...it's bound to hurt comes morning."

"It would've hurt either way, I just made sure it was for a good reason."