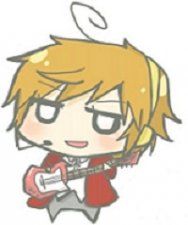 Joined

Mar 28, 2014
Messages

1,704
Awards

4
Location
It has been two years since Kingdom Hearts χ[chi] has been launched. On the 2nd Anniversary, Donald, Goofy, Chip and Dale once again crashed their gummi ship onto Daybreak Town. This time they came with a letter from Mickey asking them to search for the "key". What new revelations will there be at the end of this event? Stay tuned to 6th August to find out! While waiting, let's just admire the artwork Tetsuya Nomura has drawn for this anniversary.
Kingdom Hearts χ[chi] Anniversary Artworks
​
Premium Key Art for the Anniversary
​
「Prologue: The fallen shooting star, once again」

A shooting star is shown crashing into Daybreak Town. It turns out to be the Gummi Ship.
Chip: Geez! It's all your fault for moving the ship while it's still in preparation!
Dale: Is it broken?
Donald: Gwaah...
Goofy: Is there anything we can help with?
Chip: Don't touch it! We'll start repairing the gummi ship so go somewhere else to past time.
Dale: This should take quite a while...
Donald: Okay, we'll look around this area then.
Goofy: We'll leave the gummi ship to your hands.
Donald and Goofy start out to explore the surroundings.
Goofy: Oh yeah! While we're at it, the matter in the King's letter-
Donald: The "key" right? Okay, let's go look for it!
​
「Main Event Scenario: We found the Key!」
Donald and Goofy got blown away during a battle and land on top of Moogle.
Donald, Goofy:The Key!
Heartless suddenly appears. Moogle ran forward to fight it but the tip of it's handmade Keyblade broke off, and the rest came with it.
Goofy: Ah-hyuck!
Donald: Gwaaah!
Player rushes in to help. The keychain lying on the ground automatically goes to his Keyblade, transforming it into the Moogle of Glory. He goes on to defeat the Heartless.
Goofy: In any case, it seems that this is the real "key".
Donald: Is this kid really the "key" the King told us?
Moggle: Moogle's treasured weapon has been absorbed by the loyal customer, kupo!
Don't worry, the kind Moogle will not ask for it back right away, kupo. I want you to use that weapon to hit many enemies to make it stronger, kupo. You can return it after that, kupo.
As usual, I'll lend my assistance by trading items with you at my store, kupo. Well then I'll see you later, kupo!
Moogle walks away.
Goofy: Alright, we can use this chance to observe this child to see if he really is the "key".
Donald: Hmm......
Goofy: We have time anyway.
Donald: Okay, okay!
Goofy: We'll lend you a hand if there is anything we can do.
Moogle is all alone.
Moogle: This is a bit different from Moogle's plan but it's okay, kupo! This way, Moogle can obtain a strong weapon without doing anything dangerous, kupo.
​
「Epilogue: The Irremovable Key」
Donald and Goofy came over to Player, who has just defeated a Heartless.
Donald: See? Told you I saw something in him.
Goofy: Huh, did you said that?
Donald: This kid is definitely the "key"!
Moogle rushes to the Player.
Moogle: The weapon looks strong enough, kupo. Time to return it to Moogle as promised, kupo.
Donald: Aww, not when we just found the "key"!
Player hands the Moogle Keyblade to Moogle, but it went back to him immediately after.
Moogle: Why did it go back, kupo? Return it to Moogle, kupo!
Moogle snatches the Keyblade, but it made its way back to the Player again.
Goofy: Looks like it's impossible to remove the "key" from this child.
Moogle: No way! To fight with it, collect and sell. Moogle's cash flow cycle plan has failed, kupo...

Dejected, Moogle walks away.
Donald: Alright now that we have found the "key"......
Goofy: All that's left is to find the King.
Chip and Dale rushes in.
Chip: Hey, we've been calling for a while why aren't you noticing?
Dale: We were very loud.
Donald: What's wrong?
Chip: No time to explain, hurry up!
Chip and Dale dashes away, with Donald and Goofy right behind them. Player follows the group.
Back at Seaside Park, Chip and Dale gets into the Gummi Ship immediately.
Chip: Get on quickly!
Dale: Since the ship is in preparation before this, the engine is unstable! It may take off anytime!
Donald: Ehh!?
Donald and Goofy got in quickly.
Goofy: Ah-hyuck, looks like we got on just in time.
Donald: What about the "key"!?
Goofy: There he is!
Donald and Goofy looks at the Player who is outside. Player waves goodbye smiling.
Chip: Time to go!
Donald: Wait! The "key"!
The Gummi Ship takes off into the sky.
Chirithy appears.
Chirithy: In a big hurry just as usual.
-End-
2nd Anniversary Hall of Fame
​
Rewards will be distributed to users who are in the top 10 in the below categories.
(Records are taken from 18th July 2014 - 16th July 2015)
- Lux Earnings
- Number of Missions cleared
- Number of Raid Boss defeated (Normal + Sub)
- Highest damage to Raid Boss (inclusive of chain damage)
- Number of Heartless defeated
- Number of Treasure Chests opened
- Number of Materials collected
- Number of Supports given
- Number of Talks in the Chat Log
- Number of Cards received
- Number of SR+ cards Ultimised
Rewards:
1st: 1 x Signed Postcard, 3 Chirithy Stickers, 15 Adamantites, 15 ULT Attack Moogles, 15 ULT Assist Moogles
2nd: 1 x Signed Postcard, 3 Chirithy Stickers, 12 Adamantites, 12 ULT Attack Moogles, 12 ULT Assist Moogles
3rd: 1 x Signed Postcard, 3 Chirithy Stickers, 10 Adamantites, 10 ULT Attack Moogles, 10 ULT Assist Moogles
4th: 1 x Signed Postcard, 3 Chirithy Stickers, 9 Adamantites, 9 ULT Attack Moogles, 9 ULT Assist Moogles
5th: 1 x Signed Postcard, 3 Chirithy Stickers, 8 Adamantites, 8 ULT Attack Moogles, 8 ULT Assist Moogles
6th: 1 x Postcard, 2 Chirithy Stickers, 7 Adamantites, 7 ULT Attack Moogles, 7 ULT Assist Moogles
7th: 1 x Postcard, 2 Chirithy Stickers, 6 Adamantites, 6 ULT Attack Moogles, 6 ULT Assist Moogles
8th: 1 x Postcard, 2 Chirithy Stickers, 5 Adamantites, 5 ULT Attack Moogles, 5 ULT Assist Moogles
9th: 1 x Postcard, 2 Chirithy Stickers, 4 Adamantites, 4 ULT Attack Moogles, 4 ULT Assist Moogles
10th: 1 x Postcard, 2 Chirithy Stickers, 3 Adamantites, 3 ULT Attack Moogles, 3 ULT Assist Moogles
*Postcard and stickers will be delivered to your home address. If there are any players here for managed to win, prepare a proxy service for this.
*Results will be announced on 23rd July.


2nd Anniversary Treasure Chest
s

From 16th July till 6th August, there will be special treasure chests across the maps.
It will cost 10 AP to open the regular ones, and 40 AP to open the rare ones. Inside will contain various kind of rewards. Once opened, the chests will need 12 hours to respawn.

Refer here for the locations.
Log-In Campaign
When you logged in from 16th July till 6th August, these will be rewarded:
2 SR+ Sora, Riku & King Mickey (Power), 10 Ethers, 10 Potions, 5 Raise Tickets, 2 Adamantites
.
​
Also during this period, these are the daily log-in rewards:
Monday - Thursday: 2 Gold Mog Boosters, 1 Raise Ticket, 30 Moogle Medals, 5 Potions
Friday - Sunday: 3 Gold Mog Boosters, 2 Raise Tickets, 50 Moogle Medals, 10 Potions
2nd Anniversary Survey
Till 23rd July, participating in this survey will earn you
300 Charge Munny, 10 Potions and 10 Ethers
.
These will be distributed on 30th July.
Refer to this
thread
for the survey instructions.
Welcome Back Campaign
For those we met all of the below criteria:
1) Cleared all tutorials by 16th July 2015
2) Has not logged in since 19th June 2015
3) Logged in once from 16th July 2015 till 6th August 2015
Rewards given: 8 Raise Tickets, 30 Potions, 30 Ethers, 10 AP Plus, 10 Deck Capacity Plus, 4 SR+ Yen Sid, 3000 Moogle Medals, 3 SR Fairy Godmother, 10 SR+ Moogle
Last edited: