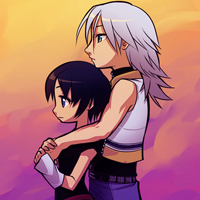 Joined

Jan 31, 2008
Messages

16,306
Awards

5
Age

36
Location
Website
Yeah we kinda do don't we? I tend to thiink everying relates back to hearts true, but I wouldn't say the Soul by itself is useless. It's just a concept that hasn't been explored in the games yet.

Although the more I think about it, well, maybe you're on to something. I don't suppose you're at all familiar with The Maxx by any chance? (this is what I get for bringing up Julie and the Jungle Queen >>; )

Anyway the main villian in the series is capable of interfering with a person's unconscience even to the point of being able to force dream creatures to materialize in the real word, though the process twists them and turns them into monsters (the Izs, which curiously enough slightlly resemble the Shadow Hearless).

I could see something similar drving the plot of BBS, though I doubt it would as dark.
Ya, that's kind of what I was talking about
And I donno, so far BBS seems to be dark relative to KH games, and if it's really by the guy who wrote CoM and gave us that game's Sora, I wouldn't put that quite beyond them.
Fact is, even if the three protagonists won't be affected by it (then again, Ven...), they could still use the concept as a whole.