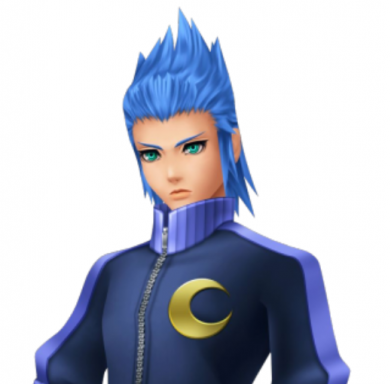 Joined

Nov 18, 2021
Messages

47
Awards

2
It seems like most of the fandom thought Xigbar being Luxu was a pretty cool twist. But I have to say, I was really disappointed by it. And the reason is because I thought Braig/Xigbar was such an interesting character. He was "a fool desirous of the Keyblade's power".
Xigbar: Duh! You're strong because of the ties you have with other people. As if the Keyblade would choose a wimp like you. But no pouting. We see much bigger and better things in your future...once you side with us.
Sora: I know the Keyblade didn't choose me, and I don't care. I'm proud to be a small part of something bigger--the people it did choose. My friends. They are my power!
(Behind Sora stand the images of Riku, Kairi, Mickey, Donald, Goofy, Roxas, Xion, Terra, Aqua, and Ventus. They hold their weapons out, facing Xigbar)
Xigbar: Those are just words. You've lost.
Remember how nervous he got in this scene? He was truly intimidated by the power of Sora's bonds. That wasn't an act. To be worthy of the Keyblade, you must possess a strong heart. And that is determined by your connections to other people. What is Xigbar's basic weapon called in
358/2 Days
? "Stand Alone".
Xigbar: Figures. If I had a Keyblade, it'd be different…
Sora: Like you're actually worthy to use one.
Xigbar: The old coot promised to bequeath me his. Why else do you think I would ever put up with all his nonsense?
Riku: It'd be wasted on you.
My personal speculation was that Braig did NOT possess a strong heart. He did not possess the potential to wield a Keyblade, and that was why he agreed to become half-Xehanort. His suicide actually left an impact on me. It was one of the best scenes in KH3, IMO. He was definitely the most despicable of the original apprentices. But I actually felt sad for him. He was the epitome of a weak heart. He had no close bonds with anyone. He did not try to atone, like Even did. He did not show remorse like Dilan or Ienzo, who broke down in tears when Ansem returned. So, what else did he have left after realizing he wouldn't get his prize? Absolutely nothing. A perfect end for him.
Then later on, we find out that apparently, he was just
pretending
to commit suicide, and his WHOLE personality was just an ACT! That was really
his
Keyblade the whole time and he was just sticking close to Xehanort to keep an eye on it. Really? Come on, man. I like twists. But only when they are appropriate. This twist just did not ring true whatsoever, and I don't think it did justice to his character. In fact, it robbed him of everything his character was all about. TBH, I didn't like the direction KHUX and KH3 and took with most of the organization members' backstories, but Xigbar really stands out. Like, the blatant disregard for all of his previous characterization is just so BAD.