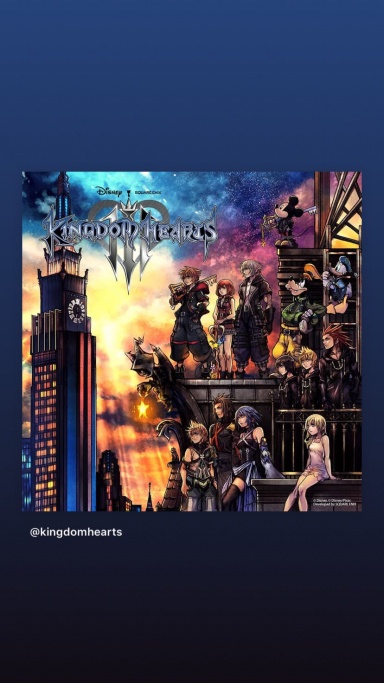 Joined

Feb 10, 2018
Messages

98
Awards

2
Hi everyone. I had a Kingdom Hearts related experience at work the other day that I personally thought was neat. It helped me feel happy and helped me to keep going in life, like a lot of small and simple positive experiences do. I'm not sure if this is the right place to post something like this, but I wanted to create a thread in which people can share "simple and clean" experiences they've had related to Kingdom Hearts as a series or in general, that have helped them feel happier when they were down, or just helped them keep going like the experience I had did. It doesn't have to be a grand experience, and it can be something simple like a positive interaction with someone either in person or online related to Kingdom Hearts, or anything like that you can think of.

I'll go ahead and start by sharing the very simple, but positive experience I had at work related to Kingdom Hearts. Where I work, we have the radio playing all day with all kinds of different songs. In honor of national video game day here in the United States (it's not a big deal of a day, really; just a simple recognition of video games), a few different iconic video game themes were played at different parts of the day over the radio. I heard things like the Super Mario Bros. theme song and The Legend of Zelda theme song. Both were really great to hear at work, but I was starting to wish they would recognize a little more variety as well.

As I clocked out of work that day, the radio was still going for the night crew. Someone from another store had called the station and requested that they play Utada Hikaru's "Simple and Clean" for a friend. Suddenly, Simple and Clean started playing over the work radio, and as I walked out of the store that evening, listening to that iconic and special representation for Kingdom Hearts, I was filled with happiness and the rest of my evening went well. I was so happy to hear Simple and Clean playing over the radio where I work!

While this was a very simple and small experience, for me personally, it helped brighten my mood and helped me to keep going. It reminded me that although the fanbase for Kingdom Hearts is only a few million at most, we are still a few million strong. It showed me that there's Kingdom Hearts fans all over the place, and you never know when you might run into one. We all have different likes and dislikes about different Kingdom Hearts games, but I feel there's one thing we all share in common: all of us fans have some amount of love and passion for Kingdom Hearts in some way.

Anyways, I just wanted to share that, and I wanted to invite anyone who sees this thread to share their own "Simple and Clean" experiences related to Kingdom Hearts, that have helped them keep going, brightened their day in some way, or just made them feel happier. I feel like Kingdom Hearts has a great fanbase, even if it isn't as big as some other fanbases. If you would like to share a positive "Simple and Clean" Kingdom Hearts experience you've had, please feel free to do so.