Now, disclaimers first and foremost. No, I don't think Fabula Nova Crystallis was thought up at this point. I do think ideas for it probably started once Nomura and Nojima got around to Kingdom Hearts 1 and put this particular idea in there. Or that someone in the design team did it and Nomura liked it so much it inspired him to talk to Nojima and Kitase about ideas that would evolve into FNC. I don't even know if they were *in* the original PS1 game or even the Final Mix version. I can't find my old PS2 at the moment to check.
Then again, since we do know that Noctis was meant to be Sora's opposite AND that someone was meant to repeat the opening lines with Sora in the ending like it eventually happens with Re:Mind, I honestly can't say it is a coincidence or Nomura has so melted my brain I'm grasping at straws.
Also, I put it here because it's still primarily a KH1 video and I don't think it really fit with the Final Fantasy Discussion section. I could be wrong and moderators feel free to correct or move it to that section.
Either way, I found this in KH1 while looking around Hollow Bastion a bit. You know, the kind of thing one does when they have no life. Anyway, I wanted to go up and see the stained glass windows, cuz you know, they're badass and noticed these crystal shards floating around the top of the area. Nowhere else, just this area and I have never heard anyone talk about it before. So I wanted to know if anyone had noticed before and what their thoughts are concerning this.
For me, personally, I again don't think it meant anything at the time but a cool thing that eventually inspired FNC for Nomura and Nojima, or was just a coincidence. I would also appreciate if someone who has the old PS2 copy on hand could check it out or even a rom. Please, I am really curious about this.
For reference of what to look for, here's two examples. SIDENOTE: The File Size limitation on this forum is freaking killing me, since there doesn't seem to be a rhyme or reason to it. I'm sure there is, don't tell me what it is, I'm just saying it is frustrating.
Also, it helps to have the video at the highest quality, since it's the particle effects you want to look for.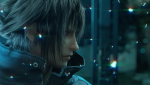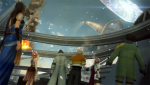 Last edited: