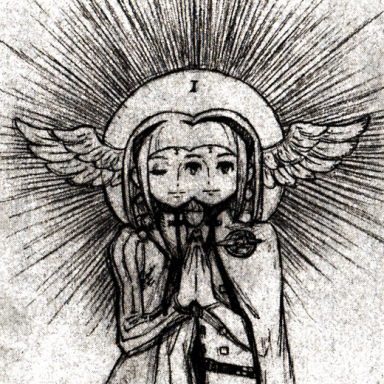 Joined

Sep 22, 2007
Messages

5,662
Awards

8
Age

26
Please view using the Stampy skin.
☩ Century's Labyrinth ☩

The Forest Without End
____________________________________________




The branches open like a maw, embracing the path from all sides. You step inside a tunnel of leafless, gnarled wood.
Not an inch of sky is visible between the branches; light and sound disappear behind you.

For a moment, you consider turning back. The journey, once begun, cannot be stopped.
Are you willing to live in darkness and silence? Will you chance a lifetime of wandering?

The forest swells around you, and the path blurs. Ahead of you, the Groundsman awaits.

His skin is craggy gray; his eyes, milky white. His beard, thick with moss and fungus, twines around his ankles. Wordlessly, he extends his hands to you—cupped together, to hold something fragile and precious. Hesitation flies from your chest. You place your hand within his two, as per your instructions. A burning in your fingertips—a separation in your chest—and the Groundsman speaks.

"May your light serve you well, Seeker." Hanging from his craggy gray hands, a lamp.
It is no larger than your hand from wrist to fingertips. Inside it, your soul burns softly.

"Hail, Seeker of the Mantle," the Groundsman says. "At your approach may every knee bend."

Shining your lamp onto the path, you enter the Labyrinthine Wood.
____________________________________________

☩ BACKGROUND ☩
​
For one-thousand years, the Labyrinthine Wood has appeared at the turn of each century, issuing a challenge to mankind's heroes. It springs from the ground in a single night, and its location has always been unpredictable. Scholars and magi have tried in vain to predict its next appearance, or for how long it will stay. It has once remained in place for three decades; another time, it disappeared after only two years, to reemerge at the dawn of the next century.
True to its name, however, it cannot be mapped or measured in any way. The trees shift according to an unseen will, and the laws of the physical world cease to hold sway. No one who enters is ever seen again.
Why venture inside at all? Why send champions and armies into its maw? Why build an entire city around the wood, each time it appears?
The Labyrinthine Wood is said to contain the Mantle of Heaven, a garment worn by God himself. Its owner is recognized as God's steward among men, and will be granted reign over all the world. To this end, entire generations have thrown their lives into the Labyrinthine Wood. Rulers and their champions—from every corner of the world—put their mettle to this final, ultimate test. They cede their souls to the Groundsman, obtain their lanterns, and hunt for the most precious Mantle...
MAGIC​
​
​
This century's labyrinth has stood for eighteen years, more than enough time for the closest settlements to become bustling townships all. As with previous "host cities," these cities of the Essex region have become hubs of magical activity, a direct response to the influx of Mantle-Seekers. Magic—that is, the manipulation of the natural elements—is largely considered an educated man's pursuit, to be tinkered with in the halls of a university. The Seekers have bastardized it, making it easy and accessible for those hunting the Mantle:
Rather than using a natural power source, such as a controlled chemical flame, Seekers use the light of their soul lamps to temporarily feed a spell. The longer the spell's incantation and duration, the longer one's strength is diminished; the more complex the spell, the longer the incantation. One can summon a wind with but a few words, but the direction and strength of the wind will be entirely random.
Every specification
normally
requires a specially-formulated phrase—but some profit-seeking magicians have taken up selling tomes of premade spells, for any given situation. They come at a high cost, of course, and few buyers realize that the spells within are very long and taxing to cast.
____________________________________________

☩ MECHANICS ☩​
​
​
Last edited: