Details

Published on November 23, 2016 @ 11:33 pm
Written by Joey
Just like Dengeki Online, Weekly Famitsu have released the latest edition of their magazine with another feature on Kingdom Hearts HD 2.8 Final Chapter Prologue. This time the focus is mainly on Dream Drop Distance HD, as well as Kingdom Hearts χ [chi] Back Cover.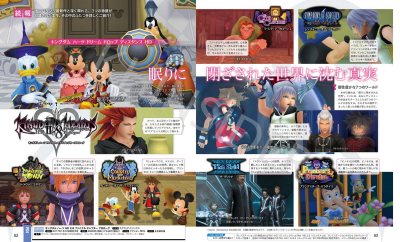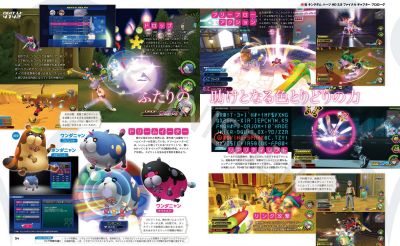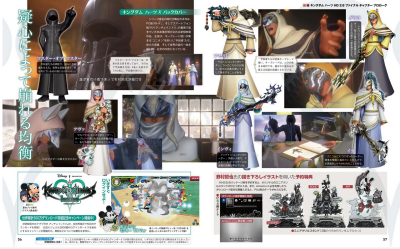 Remember to view the images in their full size in a new tab!
We have the Back Cover translations available for you now, thanks to Saken:
-By doubt, the crumbling of balance-

KINGDOM HEARTS X BACK COVER
Set in the series' oldest era, Kingdom Hearts X Back Cover is a completely new animated film which sheds light on the events that occurred on the flip side during the course of both Kingdom Hearts X for the PC and Kingdom Hearts Unchained X for smartphones. This time, taking the leading role are the Foretellers, who gather Keyblade Wielders in order to form and lead "Unions". Depicting the conflict, as well as a small part of the world's mystery, this title becomes must-see content!

The Master of Masters
The master of the Foretellers, he bestowed upon them the Book of Prophecies. His manner of speech and movements are erratic, so nobody knows what he's actually thinking.

*The Master of Masters has eyes that can see into the future, and with that power he created the Book of Prophecies. He gave this to 5 among the 6 of his apprentices.*
-Screenshot: MoM: "Even though there is a traitor, keep a level head"-

Ava
Vulpis Union's leader. Being close in age to the Keyblade Wielders, she feels a sense of companionship among them.
-Screenshot: Ava: "I want to protect the Master's teaching."-

Aced
Ursus Union's leader. Obsessed with power, he will try by all means to protect his idea of justice.
-Screenshot: Aced: "If that's the case, then what about you!"-

*All of the Foretellers are Keyblade Wielders. In Sora'a current era, the Keyblade is a legendary weapon that only the chosen may wield.*

Gula
Leopardus Union's Leader. An individualist, he doesn't cooperate in a team very well. An uncharacteristic calmness sometimes peeks out of him.
-Screenshot: "Huh? That's a page from the Book of Prophecies, right?"-

Ira
Unicornis Union'a Leader. Approaches everything reliably with care and soundness. Here and there he is mocked for being too upright.

Invi
Anguis Union's Leader. Thinks very highly of herself and trusts the Master of Masters wholeheartedly.
-Screenshot: Invi, with back turned to Ava: "Ridiculous."- (t/n this is the exact same line that is given to the Illustrated Aqua medal in the Japanese KHUX. She also used this before the Malificent fight in BBS.)
Follow Kingdom Hearts Insider on Facebook, Twitter, and Tumblr for the latest updates on Kingdom Hearts Unchained X, Kingdom Hearts 3, Kingdom Hearts HD 2.8 Final Chapter Prologue and all things Kingdom Hearts!