Details

Published on December 22, 2016 @ 08:02 pm
Written by Arielle
UPDATE 12/22/2016: Utada Teruzane has amended his statement about Utada Hikaru's involvement in KINGDOM HEARTS 3, stating that they are eager to do it but the decision is not official as of yet.
Utada Teruzane, father and manager of Utada Hikaru, has confirmed that Utada is working on the theme song for KINGDOM HEARTS III on Twitter.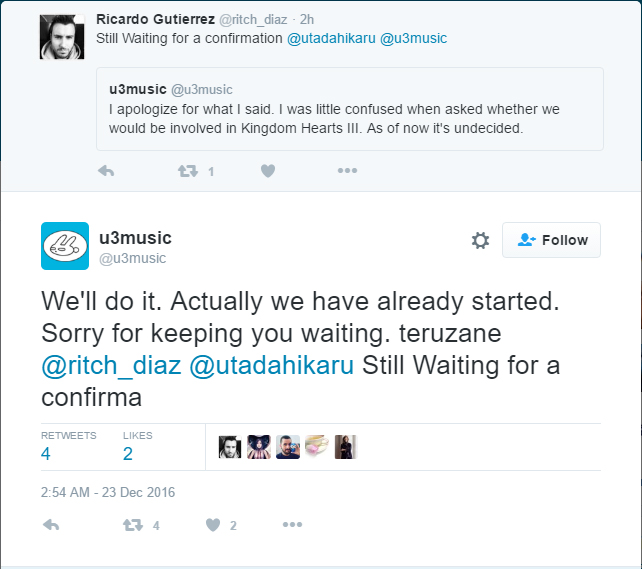 Back in 2013, Utada's father made a similar statement about her working on the theme for KINGDOM HEARTS III, but quickly went back on the statement.
For years fans have wondered if Utada would be making a return to the franchise since in an interview with JETANNY in 2009, Teruzane Utada said they rejected Disney's offer due to them paying little for the work that was being put into each song made for the KINGDOM HEARTS series.
In 2014, KINGDOM HEARTS series director Tetsuya Nomura illustrated a piece of artwork for Utada in commemoration of her cover album, including a message conveying his internal conflict about wanting to see Utada return to music and create a song for a specific "game".
Utada Hikaru and Japanese producer and DJ PUNPEE worked on the Ray of Hope MIX versions of "Hikari" and "Simple & Clean" for KINGDOM HEARTS HD 2.8 Final Chapter Prologue, releasing January 2017.
Follow Kingdom Hearts Insider on Facebook, Twitter, and Tumblr for the latest updates on Kingdom Hearts Unchained X, Kingdom Hearts 3, Kingdom Hearts HD 2.8 Final Chapter Prologue and all things Kingdom Hearts!