Details

Published on June 27, 2014 @ 02:40 pm
Written by Arielle
I know, I know. Another album. This is different, though!
Featuring music from The World Ends With You, Final Fantasy Type-0, Crisis Core: Final Fantasy VII, & more, this album breathes new life into your favorite songs composed by Takeharu Ishimoto along with some surprises!
What is The Death March you ask?
Based on The World Ends With You's Reaper-comprised rock band Def Märch, The Death March consists of music producer Takeharu Ishimoto, T$UYO$HI (Bass / The Bonez, P.T.P), ZAX (Drums / The Bonez, P.T.P), Ko Kanza (Drums), Katou Tarou(Guitar / ex-BEAT CRUSADERS., -support-ZIGGY), JUNYA (Guitar / ex-MIDNIGHT SUNS), Stephanie (Vocals), and SAWA (Vocals).
They first became an official group in September 2013 when they began searching for new members, although a few of them had been working together since their very first The World Ends With You concert back in 2012. After playing a few concerts and recording for The World Ends With You -Crossover- & Crossover ~ Tribute albums, the group decided to finally become official and release an album together.
The Death March's debut album will release September 17th 2014 for 3024 Yen ($30 USD), and limited print editions will come with a download code for audio files of The World Ends With You 1st LIVE concert that was held back in November 2012. Cover art for the album features the main members of The Death March, drawn by The World Ends With You character designer Gen Kobayashi.
Fans can pre-order the album on the Square Enix e-Store, Sony Music Shop, or from Amazon Japan which ships internationally.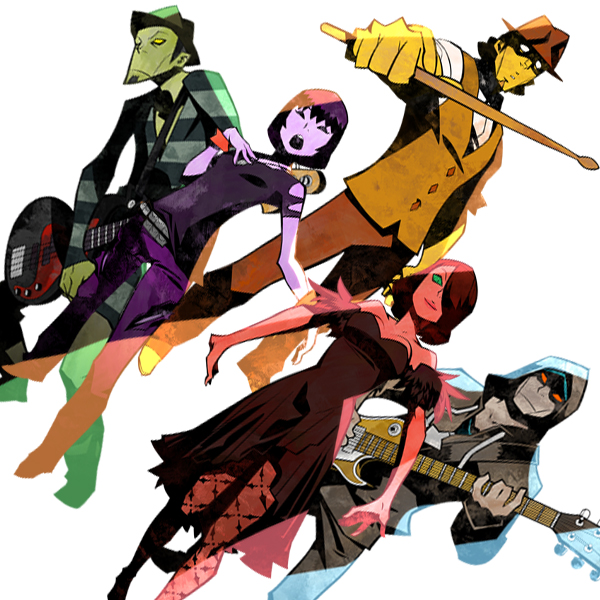 Source: Takeharu Ishimoto via Facebook