Details

Published on May 11, 2015 @ 04:33 am
Written by Cecily
It's been a long time since any news has surfaced regarding a possible release of Kingdom Hearts X[chi] for the western audience. Although plans to incorporate English text into the existing Japanese version were found in the source code long ago over a year ago, it has yet to become a reality. Combine that with Siliconera's discovery that a previous attempt to localize Kingdom Hearts X[chi] through Playdom - a social game network owned by Disney Interactive - had failed, the future did not look bright.
Still, the fans continued pushing onwards, particularly through the Twitter movement #ChiToTheWest, using the social network to raise awareness and encourage the community to express their interest in the game.
Perhaps it is because of #ChiToTheWest that the long-awaited localization of Kingdom Hearts X[chi] may finally become a reality?
Square Enix Germany posted a image from Kingdom Hearts X[Chi] earlier today, depicting a card, otherwise known as a Fragment, being acquired.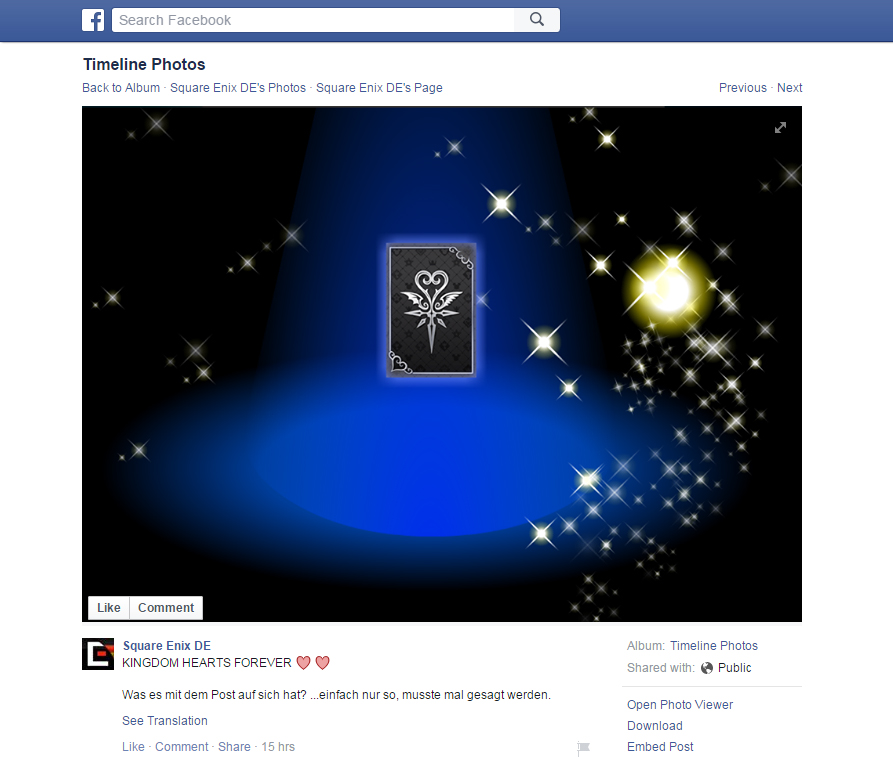 The caption below says,
KINGDOM HEARTS FOREVER <3 <3

Was es mit dem Post auf sich hat? ...einfach nur so, musste mal gesagt werden.
Which roughly translates to,
KINGDOM HEARTS FOREVER <3 <3


What this Post is all about? ...Just had to be said.
What do you think this could mean? Is it a hint of things to come? Or perhaps just an accident caused by someone coincidentally unfamiliar with the image that they used? Let us know!
For more information about Kingdom Hearts X[chi], please check out the fourth episode of our Kingdom Hearts Mysteries collaboration with Gametrailers as we discuss the importance the game holds, and drop by to chat with our dedicated Chi community!