Details

Published on January 29, 2015 @ 08:42 am
Written by Cecily
Kingdom Hearts X[chi] has developed a history of introducing important concepts to the main scenario, and these days, its reputation far precedes it. Each new story update ties it deeper and deeper with the lore and history behind Sora's adventure, and this most recent one is certainly no exception.
The latest Kingdom Hearts X[chi] story update for Daybreak Town revealed an incredible piece of information about a key character, Chirithy. For those of you unaware, Chirithy is a grey and black Scottish Fold with a bright pink purse and white cape. Each player is assigned their own Chirithy, who acts as a familiar of sorts for the player; delivering messages from the Foretellers as well as guiding you throughout your adventure. While most Chirithy share the same appearance (light gray with darker stripes), we've also seen another that appears significantly darker. This darker Chirithy belongs to Ephemera, a player from an opposing union who we encountered upon our last visit to Daybreak Town.
In the latest update, we, along with Ephemera, continue trying to get into the tower to learn more about the strange dreams we've been experiencing as of late. We defeat every Heartless that stands in our path, but it isn't before long that Ephemera makes the decision to stop for today and resume tomorrow. Being the eager young wielders we are, we happily agree to meet our newfound friend the following day to continue our adventure. However, that meeting was not meant to be.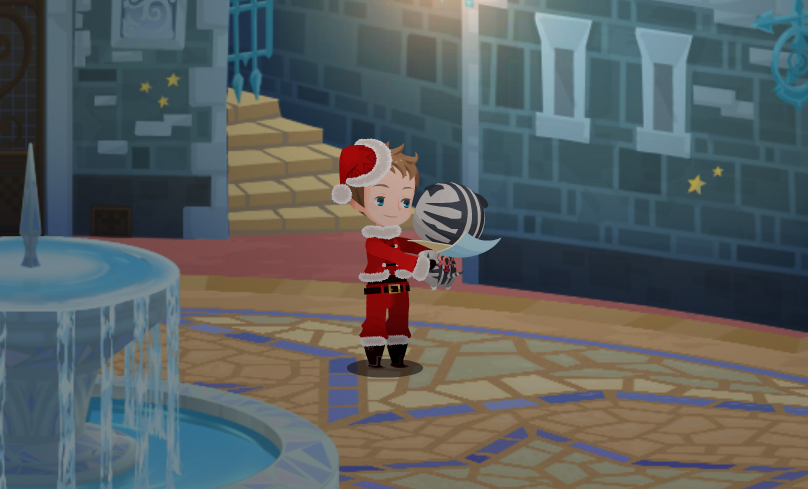 We spend the entire day waiting, and waiting, and waiting, but Ephemera never shows up. Our Chirithy, realizing what had happened, arrives to comfort us. As the player lifts him up to embrace him, Chirithy's cape flaps upwards to reveal a Dream Eater Spirit symbol on his back!
So, Chirithy is actually a Spirit? But how? That would mean we're in the Realm of Sleep! And what of Ephemera's darker Chirithy? Does that mean he's a Nightmare?
What do you think could be happening? What significance do you believe this revelation holds for the future? Let us know!
Thanks to Kazr10, you can read translations of the scene below. A subtitled video is now available:
Cutscene 1:

Ephemera:
これで借りは返せたかな?
ちょっと待って。
今日はやめとこう。
時間が掛かりすぎた。
このまま侵入して、部屋を探すのにも時間が掛かりそうだ。/ ユニオンのミッションから長く離れてると、さすがに怪しまれる。
これで塔への侵入経路は確保できたし、/ また次の機会に待ち合わせて調べないか?
よし、じゃあ、俺たちは今日からユニオンを越えた友達だ。
じゃあ、明日の正午、広場で待ち合わせしよう!

With this I've returned my debt.
Hang on, let's stop here for today. We've spent too much time.
If we enter now, we will be spending more time to search the room.
If we are away from our missions for too long, we will seem suspicious.
Since we have obtained our way in, let's meet up again for the search.
Alright! We are friends across unions.
Let's meet up at the plaza tomorrow afternoon.


Cutscene 2:

Chirithy
どうしたんだい?
ニコニコしちゃって、何かいいことでもあったの?
そうか、友達、ができたんだね。
ボクにはいないから、それがそんなにいいものなのかわからないけど。
え?キミ?
そうか、友達か・・・・・・
エヘへ。

What's up? You're grinning by yourself.
I see. You've made a, friend.
I don't have any, so I do not know if such a thing is good or not.
Huh? With you?
I see, friends huh......
Ehehe

Cutscene 3:

Ephemera:
ごめんな・・・・・・ (プレイヤー名)・・・・・・

I'm sorry...... Player......

Cutscene 4:

Chirithy:
どうしたの?昨日も今日もミッションに行かずに・・・・・・
もう今日は帰ろうよ。
・・・・・・
きっと何か事情ができたんだよ。
友達が約束を守れない時は、よっぽど大変なことがあったんだよ。
心配かもしれないけど信じてあげようよ。
キミが悲しめばボクも悲しいよ。
だってボクも友達でしょ?
わわ。

What's wrong? You haven't been to any of you missions these couple of days.
Let's go home for today.
......
I'm sure something must have come up.
For a friend to not protect his promise, something very serious must have happened.
I know you're worried, but you just have to believe.
If you're sad, I will be sad too.
Because we're friends right?
Wawa (a sound made when feeling warmhearted)