Details

Published on March 11, 2014 @ 10:31 pm
Written by Cecily
After several long months without a shred of new information regarding either of the two Kingdom Hearts titles currently in the works, something has finally surfaced. The latest issue of Famitsu Weekly contains a segment interviewing various game developers, of which includes Series Director Tetsuya Nomura, He reminisces about joining Square Enix (formerly Square Soft) and says that the recording for Kingdom Hearts HD 2.5 ReMix has been completed.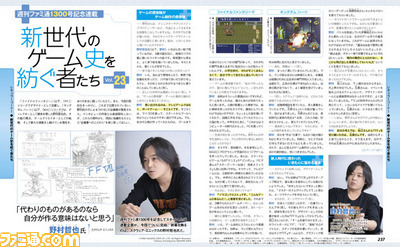 The complete excerpt is currently not available, but a summary has been provided by blog.hokanko-alt, translated by Zephyr. Please note that the actual interview may differ from the summary provided:
Series Interview (The people who spun the new gaming generation) The 23rd is Tetsuya Nomura from Square Enix. He joined Square during the time he was helping debug for Final Fantasy IV. Kingdom Hearts 2.5's recording has concluded, and he has been thinking of further scenarios for Kingdom Hearts χ[chi]. He's also been raising a Scottish Fold Blue Tabby.
Source: aibo_ac7