Details

Published on April 28, 2015 @ 01:24 pm
Written by Joey
In November, the D23 Expo Japan will be making a triumphant return. This event will be taking place over the weekend of November 6-8th 2015. This year will feature a special Kingdom Hearts event, with the working title of "Kingdom Hearts Fan Event", which will occur on the 3rd of November. As promised in our last article, more information would be coming in late April. Today, the promise was fulfilled as the D23 Event webpage updated with a few little details about the upcoming schedule.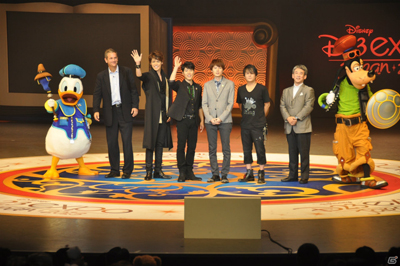 Thanks to Goldpanner for summarising the new details, we've learnt that the main website will update in mid-August with more information of the what to expect at the event. Tickets to the Kingdom Hearts Fan Event will be available in September, however this will be limited to a lucky draw event. It remains to be seen if tickets to the event will be available through any other methods.
For those who were with us in October 2013, the D23 Expo Japan revealed a spectacular Kingdom Hearts 3 work-in-progress trailer where some new gameplay features were showcased, and we got a glimpse at an updated Twilight Town and Heartless. While details on the event is scarce, the nature of the event being for Kingdom Hearts and kicking off D23 is very exciting, as Tetsuya Nomura promises Kingdom Hearts 3 news this year, as well as information about titles connected to it, including a smartphone game.