Details

Published on July 16, 2020 @ 11:00 pm
Written by Joey
It may soon be time for Kingdom Hearts Melody of Memory to make its English debut. Madison Davenport, the voice behind the Nameless Star in the Final World in Kingdom Hearts III, posted on Instagram in early July that she was recording some voice over work.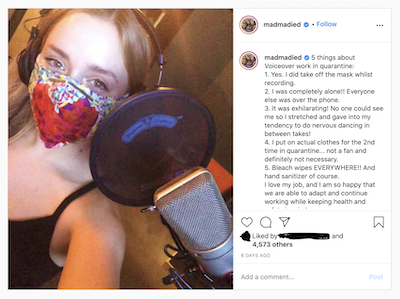 As always with unconfirmed news, take with a grain of sale as this may not be for Kingdom Hearts. Madison does have a history of voice over work with Square Enix, as she also lent her voice to Materia in Dissidia: Final Fantasy NT.
The use of a mask and writing that there were bleach wipes and hand sanitiser available suggests she had to travel to do this recording rather than recording from her home. The timing also lines up, as Kingdom Hearts Melody of Memory launches this year and English voice recording is done towards the end of development.
In an interview with Dengeki PlayStation last year, Nomura was asked about Subject X and the Nameless Star and had this to say about them:
--Many people who have finished KH3 are interested in the "girl" that Lea and Isa were looking for, and the existence of the "NAMELESS STAR" in the Final World. Can you give us any kind of hint about the truth behind these girls? Are they characters who have already appeared in the series?

Nomura: I think this is also possible to figure out for yourself if you look at all the secret reports, but yes, they are characters who have already appeared in the series. You will find out who "NAMELESS STAR" is if there is a next time.
Kairi and Riku were seen talking to one of the stars in the Kingdom Hearts Melody of Memory announcement trailer. Aside from Naminé, the Nameless Star was the only other star to be voiced. With Naminé returned to the realm of light via a replica, the only one left with a voice is the Nameless Star.
Follow Kingdom Hearts Insider on Facebook and Twitter for the latest updates on Kingdom Hearts Union χ [Cross], Kingdom Hearts Dark Road, Kingdom Hearts III, Kingdom Hearts Melody of Memory, the rumored Kingdom Hearts Disney Plus series, and all things Kingdom Hearts and The World Ends With You!