Details

Published on June 1, 2013 @ 09:51 pm
Written by Cecily
Yen Press' KINGDOM HEARTS FINAL MIX manga was released on May 28th, and it's certainly no surprise to learn that shops and sites from all over are selling out like mad. It's been a long 5 years since a localized volume of the series has been released, and since then the community has been clamoring loudly for a continuation. Yen Press stepped forward to take up the mantle after Tokyopop, and their first release did not disappoint in any way with their flawless translations and high quality artwork. It's hard to put the books down after being exposed to them.
And yet, we desire more. If the manga is this good, can you imagine how the novels would be? The KINGDOM HEARTS novels, written by Tomoco Kanemaki (scenario writer of KINGDOM HEARTS 358/2 Days) expand the series much more with fleshed out characters and new events, offering up unique backstories and experiences. Translators such as the lovely goldpanner have been working hard with every new release, and so it was inevitable that our desire to read each volume grew.
Could it be possible for Yen Press to adopt the KH novel license as well? Perhaps! They seem to be very open to the idea and would love to hear your feedback. Let them know what you think about their new manga release and if you'd be interested in the novels!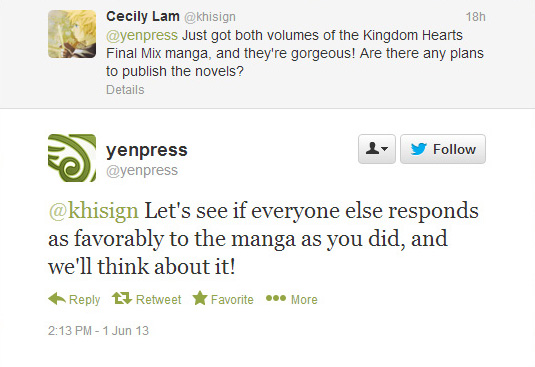 [Yen Press Facebook] [Yen Press Twitter]