Details

Published on September 6, 2018 @ 01:15 am
Written by Joey
UPDATE: Square Enix has sent us a statement to clarify the answer provided by Community Rep Kim (also known as "Glacie") in regards to the Global version's story updates:
"Kim's quote was referencing that currently, the rate of story is going to continue at the same pace, and there is a plan for how things are rolling out. She had meant by the time KINGDOM HEARTS III releases, there won't be a reason for the global players to not understand what's happening in KINGDOM HEARTS III due to the Japanese version being slightly ahead."

This is incredibly disappointing news to Kingdom Hearts fans who were excited to play Kingdom Hearts Union X for the story.
During their Union X live stream on September 5th 2018, Square Enix Community Rep Kim confirmed that the story quests will be going at a consistent pace and that any attempts to catch up the story for parity with the Japanese version likely won't happen.
So yeah, for story-wise I believe we're going at the rate that's um, it's going to be at a constant rate. I'm not sure if it's going to speed up. I know that, by the time Kingdom Hearts III comes out there shouldn't be any confusion cause the Union Cross and Kingdom Hearts III, while they overlap they're not necessary to play one or the other. So it's not going to be like if the story isn't caught up by Kingdom Hearts III release that you're going to miss out on much story. But other than that, right now, it's the rate that we are going.
This comes after Series Creator Tetsuya Nomura stating that Kingdom Hearts Union X will be important to the story of Kingdom Hearts III.
–I'm interested about its connection with KINGDOM HEARTS III.

Nomura: If you play KINGDOM HEARTS III, you will also recognize the story of KINGDOM HEARTS Union Cross. For those who are anticipating KINGDOM HEARTS III and interested in the series' story, I recommend to play KINGDOM HEARTS Union Cross.
During the Dandelion meeting back in April, Nomura also spoke on the story between the two games.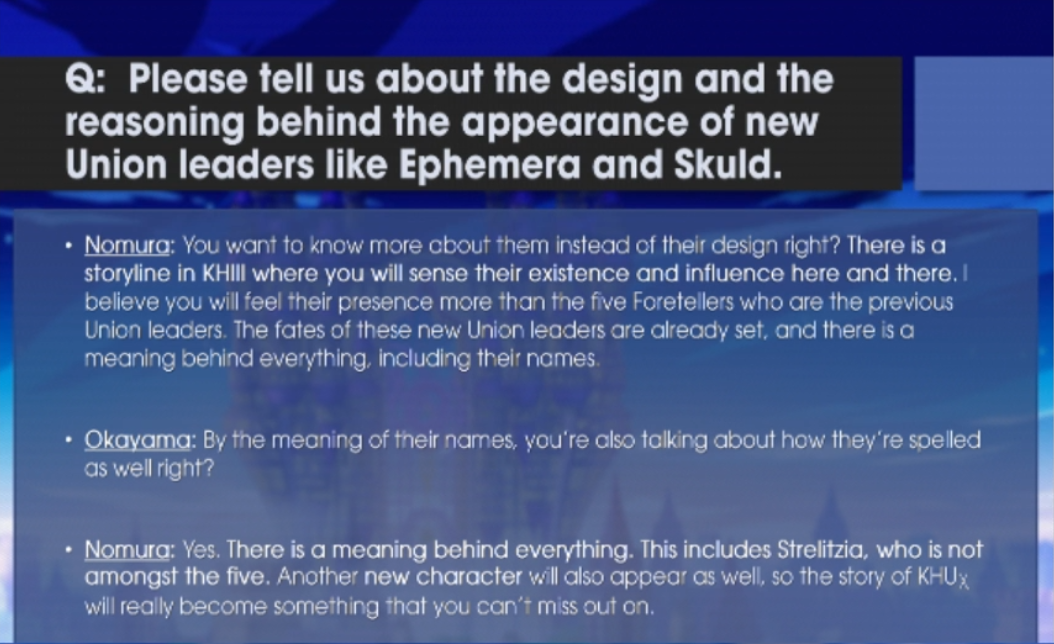 Nomura: You want to know more about [the new Union leaders] instead of their design right? There is a storyline in Kingdom Hearts III where you will sense their existence and influence here and there. I believe you will feel their presence more than the five Fortellers who are the previous Union leaders. The fates of these new Union leaders are already set, and there is a meaning behind everything, including their names.
A few days ago Nomura also confirmed that the upcoming scenario was written by Kingdom Hearts III staff, which then begs the question as to why the story isn't regarded as that important or necessary to Square Enix North America?
I have kept you waiting so long, but the main scenario will be updated next month. Actually, the scenario part of Union X, aside from myself, was partially written by the staff of KINGDOM HEARTS III and I am sorry that couldn't update it quicker, but the wait is finally over.

I think that after this, the heart of the story will be evident.

The next time the main scenario will be updated, there will be new characters, and the connection between this character and that character will be revealed. I think it will be an interesting development.
There's also the matter of Ventus and Lauriam (the human version of Marluxia). Both have appeared in Kingdom Hearts Union X and Kingdom Hearts III and with their inclusion in the mobile game, it seemed like there would be important backstory to the two which will deepen their connection in Kingdom Hearts III.
Remember to follow Kingdom Hearts Insider on Facebook and Twitter for the latest updates on TWEWY, Kingdom Hearts Union χ [Cross], Kingdom Hearts 3 and all things Kingdom Hearts!