Details

Published on October 6, 2015 @ 03:57 pm
Written by Cecily
Dengeki Playstation celebrates their 600th issue this week with a special feature on the Kingdom Hearts series! Director Tetsuya Nomura has drawn an exclusive cover for the magazine, and gives an interview about KINGDOM HEARTS III, KINGDOM HEARTS HD 2.8 Final Chapter Prologue, and KINGDOM HEARTS Unchained X.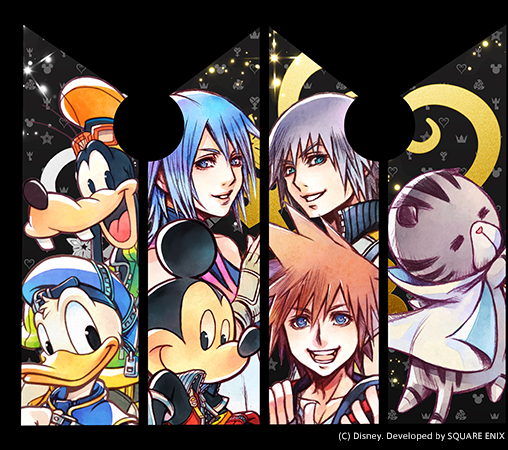 While the issue has not been officially released yet, sok4atg8 has posted a short summary of the interview contents. Zephyr has translated it below.
About the front cover
Tetsuya Nomura publishes a comment.
For the 600th issue, a collage for KINGDOM HEARTS HD 2.8 Final Chapter Prologue's announcement has been drawn to congratulate.
Due to a tight schedule, The King and the gang were drawn previously but the coloring has been touched up.
There are several times where he had bitter memories of wanting to redraw Parasite Eve for the cover. The designs were not redrawn.
KH2.8 has been made as an subsequent opportunity to KH3.
In the 700th and 777th issue, please anticipate what will be explained for FINAL FANTASY VII.

New information for KH3, KH2.8, and KH Unchained Chi will be introduced. Dengeki's mini interview with Nomura.

KINGDOM HEARTS III
The story of the "Lost Masters" is told in Chi, this is being used for KINGDOM HEARTS III.
The origin of Master Xehanort's Keyblade is also told in Chi and it connects to KH3.
It will explain what has happened in the series so far.
At D23 on November 3rd, look forward to concept footage in the Theater.

KINGDOM HEARTS HD 2.8 Final Chapter Prologue
The seven lights and 13 darknesses, other than being mentioned in KH3D, will be withheld until the end of KINGDOM HEARTS III.
In order to obtain the title of Keyblade Master, it must be taught with such knowledge.
0.2BBS connects with the story in KH1-2.
Chirithy is the one talking in Chi Back Cover.

KINGDOM HEARTS Unchained Chi
Chirithy is a guide to the players.
The "Master of Master" is the mentor of "6 Disciples" and the traitor will be revealed in Chi Back Cover.

These are the contents and etc.