Coming off of two brand-new Kingdom Hearts 3 trailers is some news that might disappoint fans who are eagerly waiting for some news regarding the English release. While a final release date has not yet been confirmed, many were hoping that English voice recording for Kingdom Hearts 3 would have already begun.
Replying to a fan on twitter, Zachary Levi, the man behind the voice of Flynn Rider / Eugene Fitzherbert in various Tangled media, has confirmed that he has not been asked to record for the character in Kingdom Hearts 3.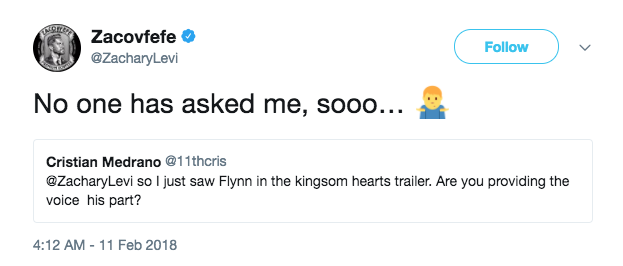 This does not mean that Zachary Levi will be replaced as Flynn Rider in Kingdom Hearts 3. Voice recording is one of the last steps in Kingdom Hearts development, and since the game doesn't have a finalised date it is most likely that recording for the game has not begun yet.
Mandy Moore (Rapunzel), Zachary Levi (Eugene Fitzherbert), and Clancy Brown (King Frederic) all returned in 2017 for Tangled: The Series, a continuation of the Tangled franchise. Sean Hayes (Pete the Guard), Paul F. Tompkins (Shorty), M.C. Gainey (Captain of the Guard), Jeffrey Tambor (Big Nose), and Donna Murphy (Mother Gothel) all returned to voice their characters from the film in the television series.
Queen Arianna was originally voiced by Kari Wahlgren (the voice of The Grid in Kingdom Hearts Dream Drop Distance) in the short film Tangled: Ever After but was replaced by Julie Bowen from Modern Family when the television series launched.
Steve Blum, who voiced a character in Tangled: Ever After and Tangled the Series, previously revealed that he would love to do voice work for a Kingdom Hearts game, so depending on the characters in the Kingdom of Corona, his wish just may be granted.
It is also expected that all of the current cast for Big Hero 6: The Series will return to voice their characters in Kingdom Hearts 3. Scott Adsit (Baymax), Ryan Potter (Hiro Hamada), Jamie Chung (GoGo), Genesis Rodriguez (Honey Lemon), Alan Tudyk (Alistair Krei), and Maya Rudolph (Aunt Cass) all returned for the series, whereas Khary Payton and Brooks Wheelan replaced Damon Wayans Jr. and T.J. Miller as Wasabi and Fred respectively.
Much like the television series, the world of Big Hero 6 in Kingdom Hearts 3 is confirmed to take place after the events of the 2014 film. Roy Conli, a Producer for Big Hero 6, said that the themes of friendship and light over darkness will be in play when Sora visits that world. It is unknown if characters who are in the film and television series who aren't the main cast will make an appearance in the game, such as Alan Tudyk as Alistair Krei or Jenifer Lewis as Professor Granville.
Scott Adsit, speaking on the Maltin on Movies podcast, confirmed in February 2017 that he would prefer to always be the voice of Baymax in official media, saying that "at this point I don't want to hear someone else doing my voice".
It is also expected that Tom Hanks will not reprise Woody in the Toy Story world. Speaking with Graham Norton in 2011, Tom Hanks confirmed that his brother Jim has always stepped in to help voice the character in media such as video games. While Disney and Pixar have a lot of input with Kingdom Hearts 3, it is unknown if they will bring in their official voice actors for Toy Story, or use their same voice actors they have for their games.
Speaking with Famitsu in July 2017, Nomura confirmed that Disney brought in their own Japanese Voice Actors for the Toy Story trailer that played at D23 in Anaheim. 
-Ah, so that's part of the story... By the way, Woody and Buzz's Japanese voice actors are a bit different, can you elaborate on why?

Nomura: We don't decide on the casting for them. That's Disney's decision. Disney already has their own games with Woody and Buzz in them, and they use those voice actors, so they probably opted for the same with KH3.
It ultimately is up to Disney to decide who they want to come in to voice for Kingdom Hearts 3. Tangled: The Series recently wrapped up their first season while Big Hero 6: The Series premiered with a television movie in November 2017, but will finally resume airing new episodes on March 1st 2018.
Don't forget to follow Kingdom Hearts Insider on Facebook, Twitter, and Tumblr for the latest updates on Kingdom Hearts Union χ [Cross], Kingdom Hearts 3 and all things Kingdom Hearts!