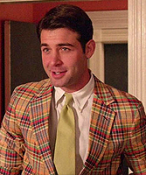 Joined

Dec 15, 2004
Messages

9,188
Awards

6
Website
Yale University identified Cameron Dabaghi, a junior from Austin, Texas, as the man who jumped to his death Tuesday evening from the 86th floor Empire State Building observation deck.

"We are all deeply distressed by this news," wrote Yale College Dean Mary Miller in a message to students issued Wednesday morning.


Dabaghi was slated to graduate in 2011 and was an East Asian studies major. He has a younger sister, Andrene Dabaghi, who is also a Yale student, according to the Yale Daily News.
It's still unclear how Dabaghi got past the 10-foot-high spiked fence ringing the Empire State Building's observation deck.


But police and witnesses said he disappeared below the outermost ledge around 6:15 p.m. and crashed down onto W. 34th St.


"He came down in front of the Bank of America. Boom! It was an explosion," said Luis Mosquea, 28, who was manning the front entrance of a women's boutique on W. 34th St., across from where the man landed.


"His body was shattered and his sneakers were scattered on the sidewalk," said Mosquea, recalling in horror how stunned pedestrians scampered in every direction to flee the nightmarish sight.


"One guy ran over and covered the body with an umbrella," he said. "It's crazy."


This is how the fence looks btw, kind of sad thinking he somehow managed to get over the fence to do what he did...

Yes, it's not easy to just get a running start and hurdle. I mean some parts are a little lower than others, but it looks like this all around on the 86th floor deck:
Some quotes
wow. can you imagine what it looks like falling from the top of the empire state building? I went to the top when I visited NY and the cars look like friggin ants bustling through the streets below. It must be crasy to see that approach you from below at a steadily increasing rate. The last few stories must have seemed like the ground was just expanding in front of him until he met the pavement and it stopped there, followed by whatever follows death. from his point of view it must have been painless in a surreal way. He was going way to fast, it must have killed him instantly.
My friend knows this kid. We were sitting at lunch and she got the phone call and started crying hysterically during lunch. Pretty shocking. Still, I think this is kind of a selfish way to kill yourself. What if he hit someone?