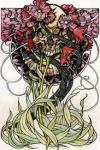 Joined

Jan 27, 2008
Messages

6,742
Sega didn't show any screenshots or even say if it is Yakuza 5 or not but apparently it's story continues after Yakuza 4.
From IGN:
There's yet another Yakuza game in development over at Sega's Tokyo headquarters.

Yeah, the PSP one, right?

Actually, no. It turns out the PSP one that was announced earlier this year is just a spinoff (to be fair, Sega said this was the case all along). The new Yakuza game, announced in this week's Famitsu, appears to be the next true entry in the series to follow Yakuza 4. Like that game, it's in development for PlayStation 3.

The new game is currently without a name or much in the way of details. Speaking with Famitsu, series director Toshihiro Nagoshi said that development on the new game has been progressing simultaneous with PSP's Black Panther: New Yakuza Story. Designed with the concept of "Destruction," it will retain the three pillars of the series -- drama, adventure and battle -- but will make some major changes at the core level.

Apparently, these changes are so major that Sega's staff got into fistfights. Okay, okay -- we're making up the fistfight part. But Nagoshi did say that his staff members have been getting into heated arguments over the changes. (It would be neat if there were fistfights too).

Nagoshi wouldn't say for sure if the new game will have a 5 in the title. In fact, we actually know just two solid pieces of info about the new game.

First, it will have Goro Majima as a playable character. If you've only casually played or read about the Yakuza games, you'll recognize Goro from his eye patch. He's a fan favorite character, and Nagoshi says that he's wanted to do a game with him as a main character for some time now, as as his personality has the potential for a unique story.

The other bit we're sure about is that the new Yakuza will draw its lineup of in-game hostesses from real girls who win a series of auditions (judged by Nagoshi himself, of course). Yakuza 4 had a similar promotion. Sega actually announced this second round of hostess auditions earlier this year, and many assumed it was for the PSP Yakuza game. Nope -- it's for this new PS3 title.

We'll get our first real look at the new Yakuza at the Tokyo Game Show. Nagoshi said the game would arrive at a time period that fans would want.

Black Panther hits PSP in a rare September release for the series. All past entries have been Spring events in Japan, so we're going to anticipate seeing Majima in the starring role early next year.

That's in Japan, of course. In America, we presumably have to get Yakuza 4 and Black Panther first.
http://ps3.ign.com/articles/110/1102924p1.html