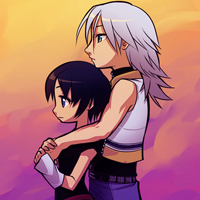 Joined

Jan 31, 2008
Messages

16,306
Awards

5
Age

37
Location
Website
Yeah, because I love coming up with random theories in other threads before posting them up in their own threads.
Now. This theory can cater negatively to both Xion likers and dislikers alike, because it comes to explain something in a way that we all know and love -
Retconning.
That's right. I'm about to point out something so utterly convenient for retconning it's been staring at us in the face for ages.
The reason why Xion didn't have a PoE is -
She shared one.
With Roxas.
There used to be a novel translation that had Roxas Duel Wielding somewhere along the way, so it added up with him having 'reputation' for Duel Wielding.
That novel was proved to be mistranslated, thanks to our very own goldpanner. Gotta love that guy :heart:
And in addition to that I say - wtf reputation. We know he Duel Wielded at the end of the line, but unless they slap a Gear up - he didn't properly Duel Wield before. It adds up with him needing Keychains to Duel Wield - which he lacked until later, and Xion's Keyblade likely coming from him and Sora to begin with so he couldn't use what she was holding.
However - his PoE still shows both the Oathkeeper and Oblivion (which kind of goes to show Xion doesn't have one
not
because she went back to her Somebody - as if that was the case, Roxas's would've been long gone).
Now why would his PoE show
two
Keyblades when he wouldn't have had them for long enough?
Well, Xemnas certainly seems to know what the fuck's going on with Xion. Maybe he knew that would be the eventual outcome?
tl;dr Xion's symbolized in Roxas's PoE, with both their Keyblades etched onto his PoE. Roxas would only have one Keyblade at the time that would've been made, so Xion's Keyblade would make up for the other one. Seeing how they'd have known about their relation, they let themselves slap the both of them up on one PoE.
I do doubt this, but it's ever a convenient retcon location if ever I saw one.
Har.
Fla- I mean, discuss.
Last edited: