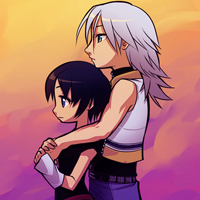 Joined

Jan 31, 2008
Messages

16,306
Awards

5
Age

36
Location
Website
28/10/08 - added a bit specifically about Duel Wielding

Ho shi- all three in the same title?!

Well, yes, I'm going there.

Due to recent dealings with theories saying Xion's Keyblade was given to Kairi via Riku, I have came up with my own theory in the matter.

No, that's not Xion's Keyblade. I don't believe she has one of her own at the time. I also don't believe Riku really gave it to Kairi.
How then did the Keyblade come to be? Here's why.

In the novels, when Riku gives Kairi the Keyblade, it's described as something that awoke inside him, like a dormant Memory (feel free to correct me about the precise phrasing, but that's the general gist of it).
It's easy to assume that those Memories were from Destiny Islands in general (seeing how that's about the only time they wrote Kairi well imo - fulfilling her role of representing Home for Riku and Sora), and possibly of Kairi in particular - but what if that was both right... and wrong at the same time?

Here's what I think.

Days ends. Xion disappears. Lives, dies, becomes her Somebody again, stops being a Kairi lookalike, whatever.
Point being - seeing how KH2 doesn't deal with her, I think one can assume with a high level of security that the following has happened -
Whenever possible, Naminé erased the Memories of Xion from people's Hearts, seeing how Xion interacted with people who had ties to Sora.
And when not - they wouldn't care.
Roxas was without his Memories for most of KH2.
Axel's behavior about Roxas can be explained both without Xion ever having existed, and even more if he were to remember her disappearence. Since she went poof though, he wouldn't talk about her.
No one in the Org really gives a shit, though it could tie in with Demyx talking 'traitor' all the time.
That leaves us with Naminé, DiZ maybe - and Riku.

DiZ having forgotten about Xion could possibly tie in with him theorizing about there yes being a Nobody created for Kairi on the night of the storm - only he doesn't remember he was possibly being right. Ties in with the theory saying Xion is Kairi's Nobody.
But this isn't the main event.

Riku forgot about Xion thanks to Naminé, yet we saw that it was possible for Memories to be yes reconnected, sometimes even without Naminé's intervention. Another possibility - Sora allegedly remembered Naminé after Naminé returned to Kairi in front of him. But she presumably did that already before - when they met with Riku. Not the same effect, I know, but a possibility.
So what if the 'far off Memory' Riku suddenly 'remembered' that made him create the Keyblade he gave Kairi - were his Memories of Xion? After all, Xion isn't only Kairi's spitting image - making for Kairi to be the trigger, but also, Riku interacted with Xion on Destiny Islands - thus explaining the design.

28/10/08 EDIT:

Just thought of another tidbit that could support this.

Duel Wielding. Sora and Riku managed. Many believe today that Duel Wielding is possible because of two Hearts, or for the matter at hand - parts of two Beings - reside as a single Entity.
Ven could somehow explain Sora. Duel Wielding first manifested in Roxas, who was Sora's Nobody. The lacking of Memories, however, enabled Ven's Presence to bubble up to the surface and all but turn Roxas into a Ven clone. Seeing how Roxas was still also a Sora, we have the initial duelty of beings that enabled him to Duel Wield (seeing how - again - I don't believe Xion has a Keyblade of her own so she couldn't have given him one).
When they fused, the Ven Presence was already noticeable via Roxas, so Sora could Duel Wield - with some help from the Drive Forms (which could on their own be compared to the various fighting modes we saw in the BBS trailers).

What of Riku then? Why, Riku's case is much more simpler, actually, seeing how we know both the Being that co-existed within him, as well as how they interacted, as opposed to Sora and Ven.
I'm talking, of course, of Xehanort's Heartless.
Two Hearts existing in the same Body, but the most important part is specifically Riku using Xehanort's Heartless's powers.
Xehanort was already hinted to have ties to the Keyblade (like Ven for Sora?) when he opened the Door to the Hear of Radiant Garden, and by the likely relation to Master Xehanort. Throw in Riku tapping into his powers freely, and it's easy to see where he could sprout another Keyblade from.

Why should we care?
Simple. Recall what Naminé said about the Memories of Sora's that she was to delink -

They'll sink into the Darkness of his Heart.

I'm saying Naminé delinked Riku's Memories of Xion, letting them sink into the same Darkness.
Who then would be able to reach those, and as a result - manage to create a Keychain then the Being who is all but Riku's Darkness personified and has ties to the Keyblade but Xehanort's Heartless, whose form Riku assumed as his own?

Oh shi- I think I just created a semi theory again. I hate it when I do that.

My two cents. Go.
Last edited: