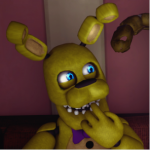 Trapped in the Source Filmmaker
Joined

Aug 5, 2013
Messages

3,282
Awards

2
Age

28
I think that the Guardian is the physical, outer-world manifestation of Terra's darkness that Eraqus is repelling. I mean, we already know that the two are collaborating within Terra's heart; so it's not far fetched to believe that Eraqus is somehow repelling the darkness to protect his Apprentice from being consumed by Xehanort.

This is possibly why the Guardian seems closed-off. Its mouth and chest have seals on them because Eraqus is trying to keep it away; therefore sealing it. But in the heat of battle, the Guardian just...manifests.
Notice how passive the Guardian's wielders are to it even BEING there? Sure, they use it, but they hardly seem to acknowledge it. Just as one doesn't always notice their shirt or how to breathe. Since its always been there, it feels natural.